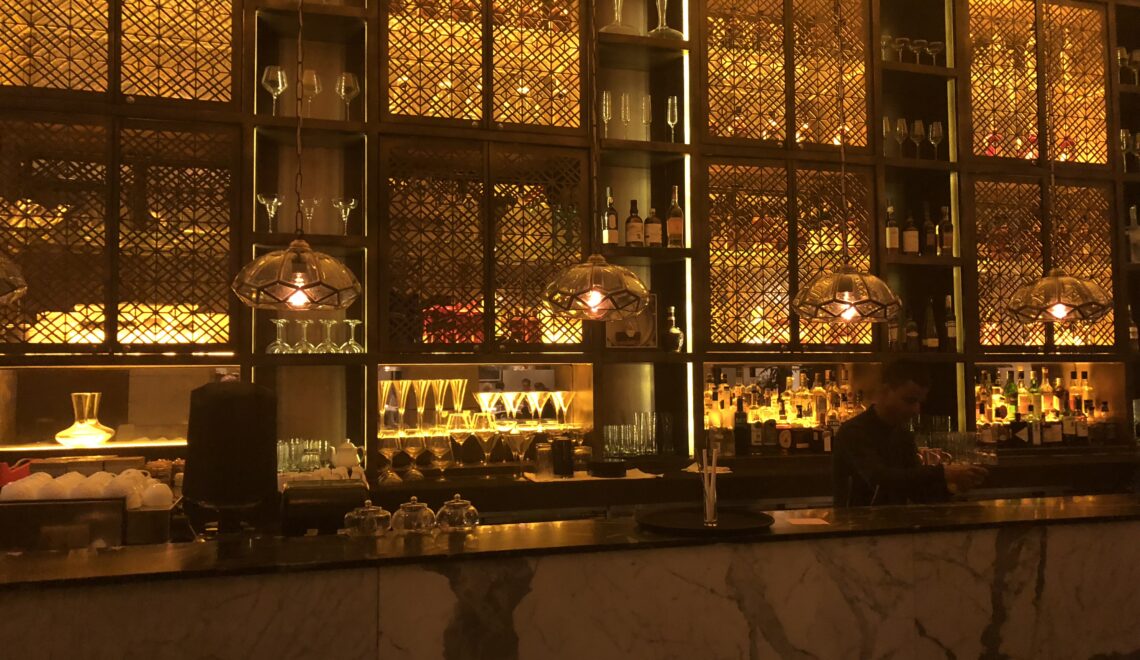 Venturing out to dinner in Delhi is almost always an occasion. There's something gleeful about getting dressed-up and being whisked away into the bustling streets, without being entirely certain as to how things will play out. It requires preparation to set the right expectations with just enough spontaneity to include an element of surprise.
I think it's the anticipation I enjoy the most. However, when you've been somewhere before and have nothing but fond memories attached to the experience, the heightened sense of anticipation begs the question: will it measure up to the last time?
In the case of Indian Accent, the answer is almost always yes.
The celebrated signature fine dining restaurant at The Lodhi Hotel, acclaimed chef Manish Mehrotra oversees proceedings, cultivating a fanbase of patrons who come for the pioneering approach to cuisine developed with executive chef Santanu Mehrotra. With outposts in New York and Mumbai, the restaurant has won every accolade out there, often featuring in year-end 'best of' lists across the globe.
Indian Accent's chef tasting menu is a 6-course love letter to the flavours of India, with optional wine pairing. In homage to the thali experience, seasonal tasting menus are creatively put together to include ingredients from all the main nutritional food groups. A simpler 4-course lunch menu is available for daytime dining, and both include a vegetarian variation. There's also an a la carte option served during lunch and dinner of what I call 'the greatest hits' collection. There's something for every palate.
The restaurant is open 7 days a week, and reservations are essential. In an era when you can order pretty much anything from your mobile or via a super-app, sadly Indian Accent still hasn't figured-out an online booking solution. To make a reservation, you either call their local reservation line, or send an email directly to their booking desk. It's worth noting that the dinner service consists of two seatings; one from 7:00pm and the second starting from 9:45pm. Last orders are at 10:30pm. All reservations need to be secured with a small deposit payment.
Our next day flight would not be leaving until the evening, which gave us the luxury of dining late. In the 3-4 occasions when we've dined at Indian Accent, we've never had any issues being seated slightly earlier than our booking time. There is a small waiting area where you can be seated if it comes to that, but notorious Delhi traffic means you'll likely run the risk of missing your slot, rather than arriving early. Or you can do what we did and just overnight at The Lodhi Hotel for convenience.
The restaurant is sectioned in zones, with the main salon located directly opposite the bar seating most tables. This is our preferred area to dine, when compared to the glass-encased back room, or the long hall running along the eastern side of the restaurant. The chef's menu is my go-to experience, and besides being a steal, the wine pairing takes the guesswork out of what to order.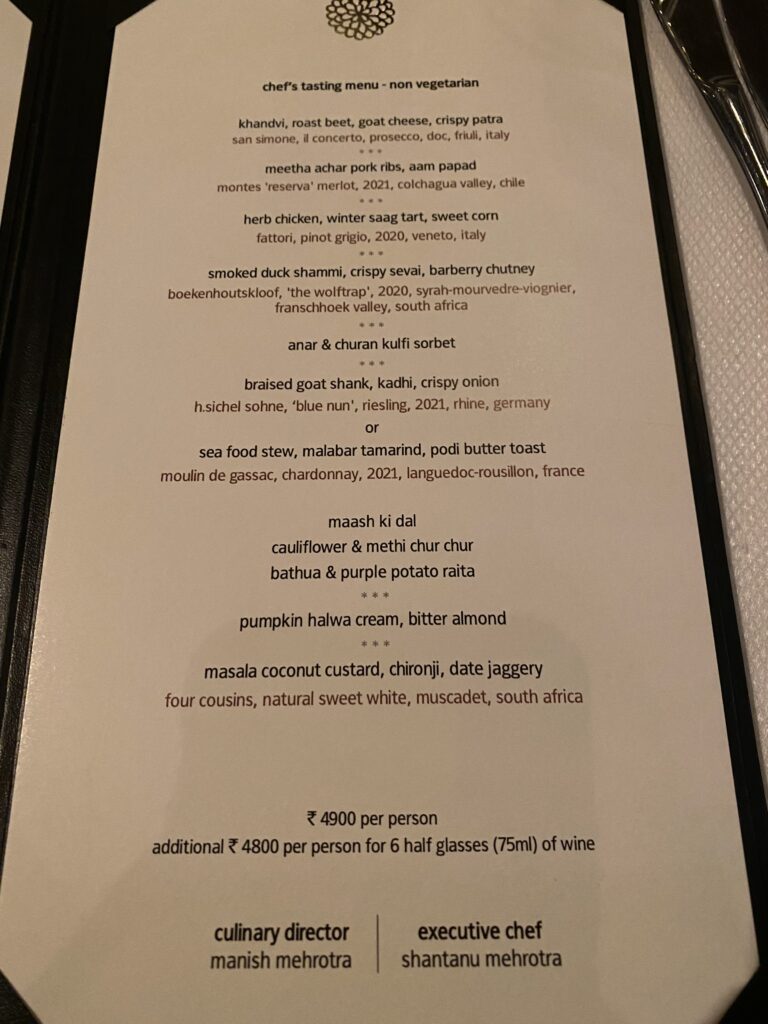 A flurry of amuse bouche kicks things off, with a trio of miniature naan breads stuffed with blue cheese and onion chutney. They're divine. Lentil fritters with mango reduction are gone in a bite, offering a nice crunch to whet the appetite. A gorgeously presented plate of savoury 'khandvi' pancakes appear, accompanied by beetroot and lightly whipped goat's cheese mousse.
I substitute the pork ribs for slow cooked lamb, shredded, and presented on a bean wheat papad. Tasty morsels of herb chicken came presented in a 'sailing boat' pastry, floating on creamy corn fritters. Yummy. Next up, a dish of duck ragu was topped with a crown of crispy vermicelli. The pomegranate and cardamom sorbet kulfi that followed was a much-welcomed palate cleanser, needed after the richness of the duck, which wasn't my thing.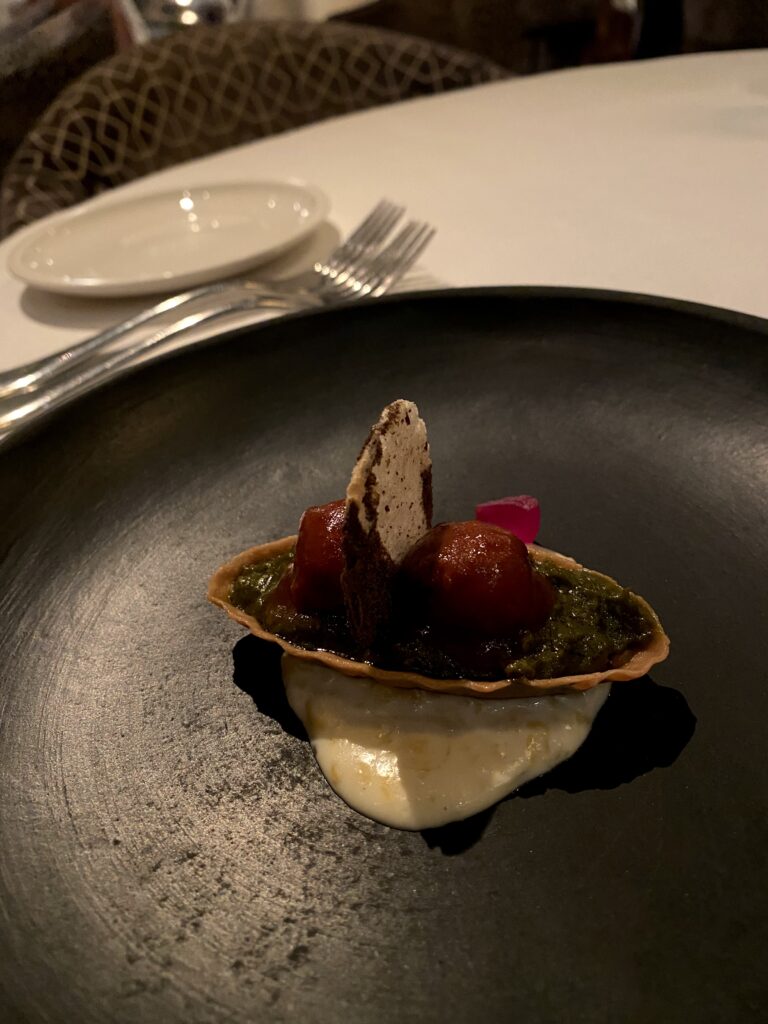 The centrepiece of the menu was a decadent seafood medley of prawns, scallops and white fish in a rich sauce cut with tangy malabar and tamarind. Brioche buns were a necessity for dunking into the accompanying daal. Rounding things off was a round of sweet dishes consisting of an unusual pumpkin cream halwa, and a coconut custard with a filo brittle and sweet date jaggery. Feeling truly done, we barely touched the small bites presented with the bill.

The Verdict
Very little to complain about here. The food was of an exceptional standard and service was courteous, keeping pace throughout.
The next morning I woke up with a monster hangover, which is something I rarely encounter. Only when I remembered those pre-dinner Manhattans we sunk at the Safari Lounge did I stop questioning what I thought was a lacklustre selection of wine pairings. It wasn't. The source of my woes was all my own doing, so there's your element of surprise!

Restaurant – 8/10
Experience – 9/10