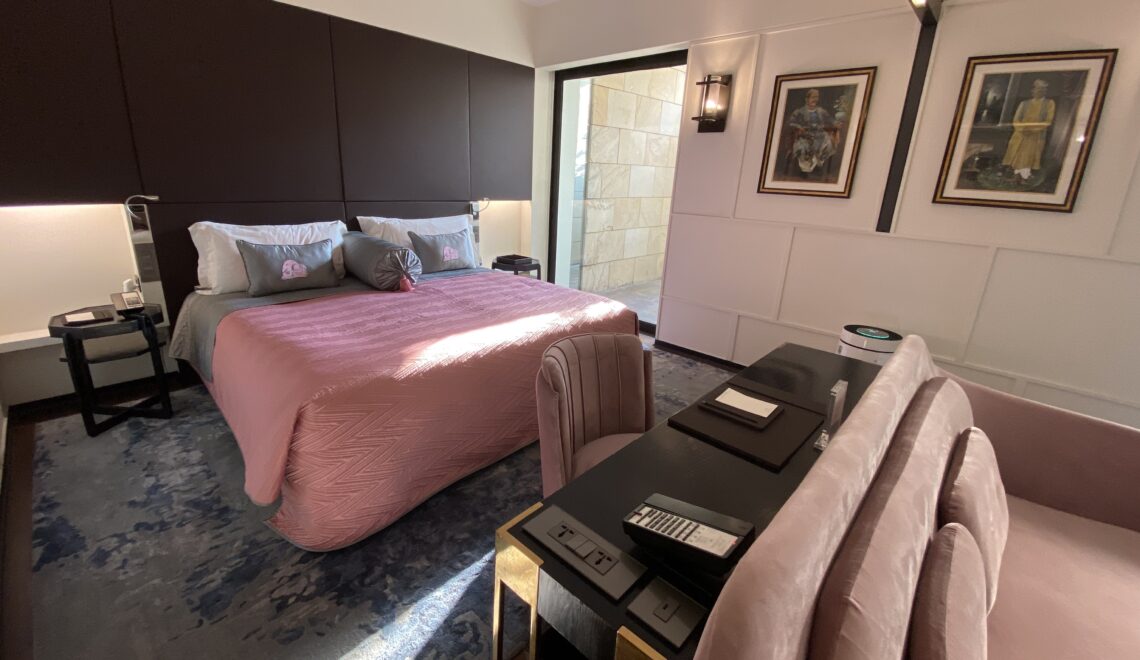 I'm standing in my guestroom, having just checked in to the Lodhi Hotel New Delhi. My feet are firmly ensconced in a plush, high-pile carpet in watercolour tones, as I pause to take-in my surroundings. Chocolate brown panels are set against pale cream walls, twinned with dark wood furniture that's accented by gold fixtures. For a pop of colour, dusty pink upholstery is the dominant shade, harmonized with grey satin and the swirling blue tones of the floor coverings. Eclectic photography adds a bit of whimsy. The late afternoon sun streams through windows leading out to the deck.
The soft whir of an air purifier aside, all I hear is the sound of silence. It's marvellous.

A member of the Leading Hotels of the World, the Lodhi Hotel New Delhi is surrounded by green spaces and within walking distance to some of Delhi's most celebrated sites. Located in the southeast corner of the city in a quieter part of Delhi, the experience made for a stark contrast to our usual hangout not too far from Connaught Square. The location couldn't be more perfect. You're within walking distance to Humayun's tomb, the namesake Lodhi Gardens, and a short tuk tuk ride from retail therapy at upscale Khan Market.
Depending on traffic and time of day, the Lodhi Hotel New Delhi is approximately 35 minutes from Indira Gandhi International airport, and the property offers an airport pick-up service at extra cost. This is a worthwhile investment, particularly if you're coming off a long international flight and want the ease of having transport waiting for you.
On arrival, we were met by a guest services liaison who took us through security and straight to our Signature Terrace Room. Long covered promenades and shaded walkways courtesy of lattice stonework keep the afternoon sun at bay. Our room was in the more secluded west wing of the hotel, on the opposite side to the main hotel building. After check-in formalities were completed, we were left to enjoy the calm of the room. A much-needed respite after encountering the boisterous streets of Delhi en route from the airport.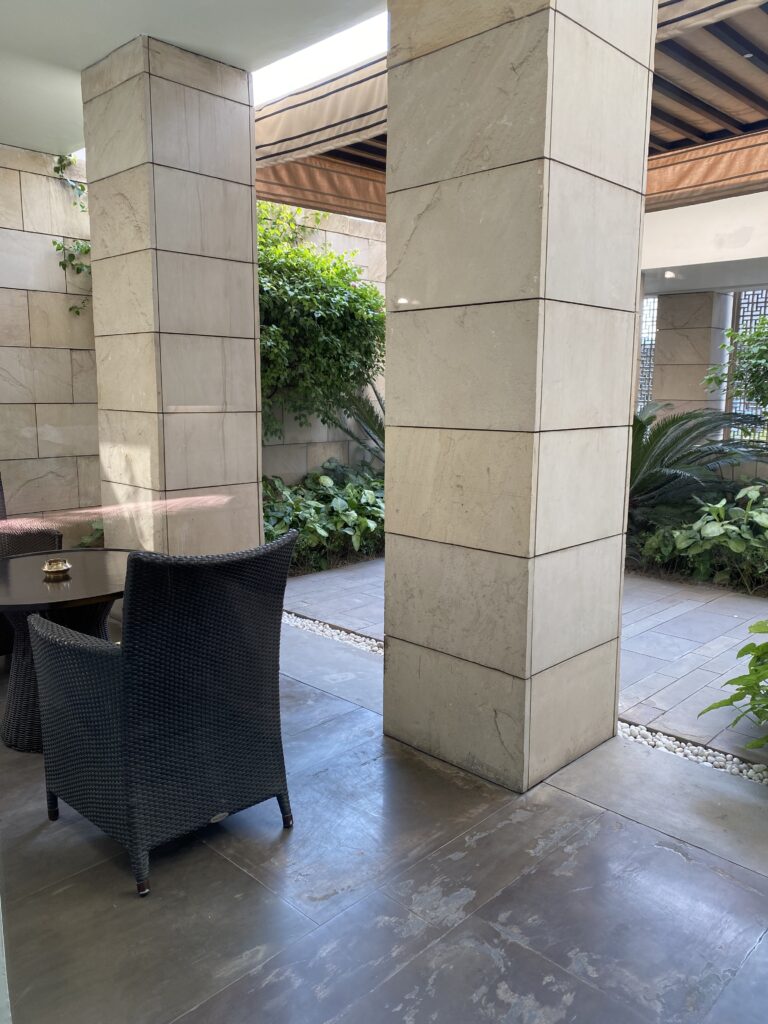 Akin to a junior suite, the Signature Terrace Room has over 750 square feet of guestroom at our disposal, including a separate seating area, desk space, expansive bathroom with stand-alone shower and walk-in closet, and a shaded outdoor terrace with shrubbery. Pollutions levels on our arrival day were high, making the air purifier in the room a welcome necessity. Even as a courtesy upgrade, the extra space was unnecessary since we would only be staying for one night prior to returning to London. It was a gesture appreciated, but I think I would have preferred being situated closer to the hotel's main amenities, in a regular guestroom. Something to consider if you have mobility issues.
The hotel grounds are spread across multiple levels that aren't immediately straightforward to decipher, linked together by walkways, gardens, and staircases. Inspired by the Mughal's the consistent architectural feature is the geometric lattice screenwork done is sandstone, an effective solution to diffusing the sun's rays. There's an extensive spa on the lower level, a 50m outdoor pool, and comprehensive athletic facilities (gym, tennis courts, squash court, yoga and Pilates studio) also located on the lower level.

A small bakery and deli feature at the hotel's entrance drop-off point, where we grabbed some savoury bites having arrived too late to have lunch, but not wanting to spoil dinner by eating something substantial. The cheese quiche and salads were great, but the long-winded dance of putting everything together for me to take back to the room could have been done with less fuss.
Located at Lobby level, Elan is the hotel's casual eatery serving breakfast, lunch, and dinner. The breakfast spread isn't as expansive as I would have anticipated but is plentiful and caters for dietary restrictions with an emphasis on Indian breakfast. Made on demand items are available a la carte, although it was a little confusing during service to know who would take our order. I put this down to the hierarchical service culture mentality in India, where there's always plenty of staff to hand, but each has a specific job they don't deviate from. Mildly annoying.

Pre-dinner cocktails were served at the Safari Lounge, a bizarrely themed pastiche of a bar that felt completely out of sync with the rest of the Hotel. It was a lively experience for people watching, as wealthy, young Delhiites convened to splash cash and take selfies before heading off to their next party destination.
The night culminated with a return visit to Indian Accent, one of the country's most celebrated and lauded fine dining establishments. Part of the reason why we decided to give the Lodhi Hotel New Delhi a try was the convenience of being able to walk back to our room post-dinner. It's quite the experience and something I'll cover in my next review. There's a second high-end restaurant in the hotel—Perbacco, which serves refined Italian cuisine, but we didn't have the time to try this. Nor did we experience the poolside café.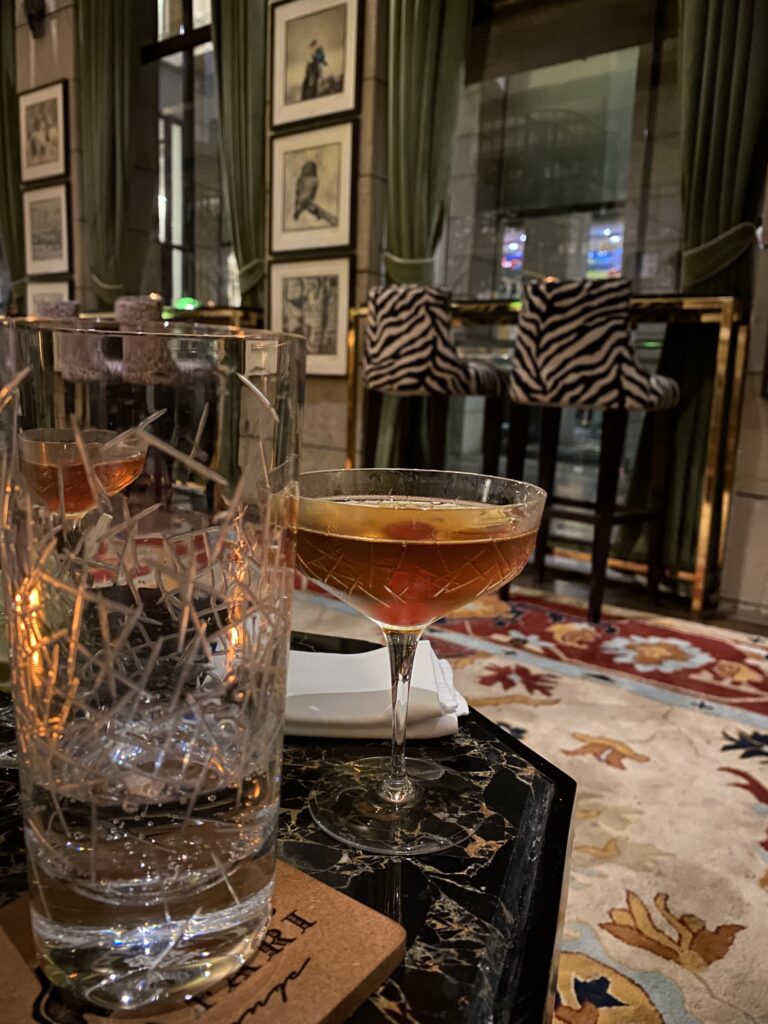 We returned to Elan the next day to grab lunch prior to our flight back to London. Once again, the service was uneven, with long wait times for the food to arrive despite requesting to speed things up. The waiting aside, the biryani we sampled was a total knock-out.
The Verdict
There's plenty to like about the Lodhi Hotel New Delhi. The property used to be an Aman Hotel, and the design ethos has that sensibility. The scale of space and room to breathe, seemingly far, far away from the chaos of Delhi, is a big selling point.
If only the Aman service culture had also been maintained. This was the main sticking point in an otherwise good overnight stay. There's nothing worse than uneven service levels; having an exceptional member of staff to build up the experience, only to be disappointed repeatedly when others fail to execute simple and straightforward guest requests. Room for improvement, which I look forward to observing on my next stay.
Hotel – 7/10
Experience – 6/10