There's not a precise way to pin down the 'pink' in Jaipur's 'pink city' moniker. It's not a dusky pink, rose pink, or quartz pink. It's sort of a salmon pink crossed with a damask pink, but more leaning towards a faded cerise pink. Like I said, it's hard to describe. So let's just call it 'Jaipur pink'.

The origins of Jaipur pink stretch back to 1876, when the Maharajah of the time ordered for the city to be painted its signature colour as a welcome gift to Prince Albert. Since then, it's persisted as the ubiquitous colour scheme of the city, made most famous by the iconic facade of Hawa Mahal, a jewel box of pink architecture that's a highlight of any visit to Jaipur.

The city itself is a quick 40-minute flight from Udaipur. Our plane was loaded with boisterous tourists in their white outfits, ready to celebrate the Holi festival. Judging by the throngs of people we passed in the taxi on our way to the hotel, the customary gulal throwing (multi-colour powders used in Hindu rituals) had brought out everyone's inner child, with streets a riot of coloured pigment.

Jaipur doesn't really have a logical centre point where most hotels are congregated, and you'll find the hotel stock is a tale of two halves. The luxury high-end is a rollcall of every luxe chain or former palace you can conjure up, while the remaining fall somewhere within the moderate range. You'll find a small cluster of five-star properties located around Jaipur road and Prithviraj road, with the likes of Aman Bagh and Oberoi located miles outside the city perimeter. Great if you want to be in complete seclusion, but not a great option for easily accessing the city.

For accommodation, we settled on the ITC Rajputana Jaipur, a Luxury Collection property that's part of Marriott International. A last-minute itinerary shift meant few hotel options were available, and at $450 USD per night, club-level rooms were the best on offer. The hotel is what I imagine you'd get if you crossed brutalist architecture with traditional Rajasthani lattice brickwork. It has presence, but it's not the most eye-pleasing thing you'll encounter. The building occupies a large rectangular plot with the interior courtyard featuring manicured gardens and a sizeable pool area. Entrance security is tight (a common theme in India), leading to the expansive lobby, which features a mock stepwell replica of Jaigarh Fort done in ornate white marble as the main focal point.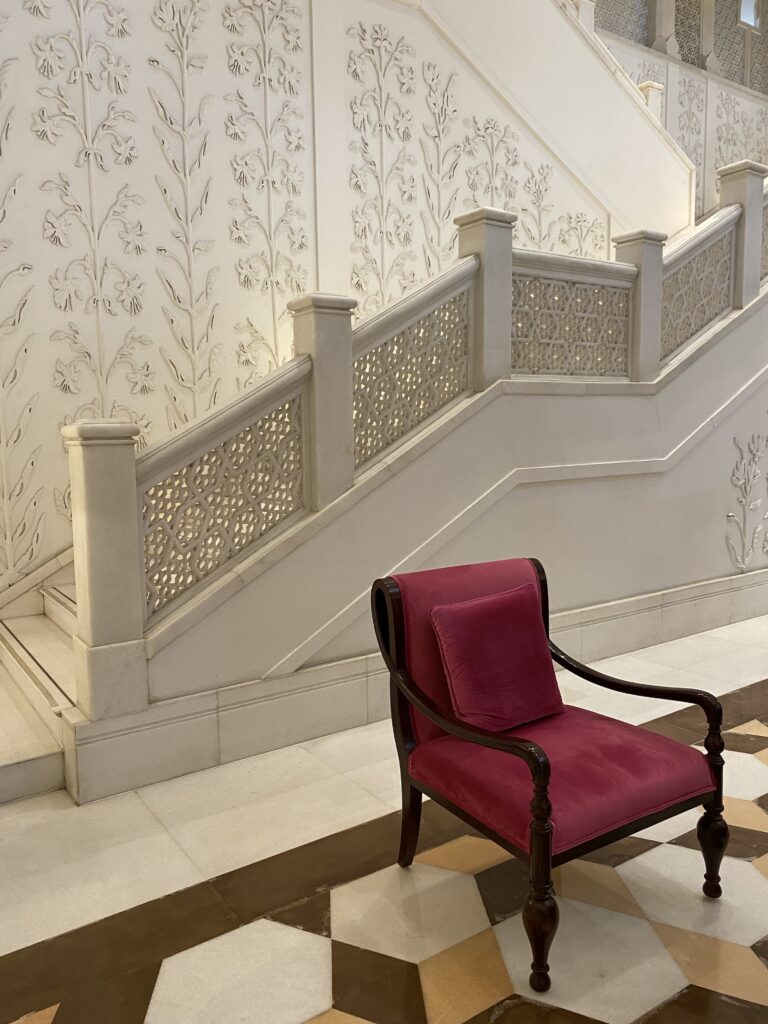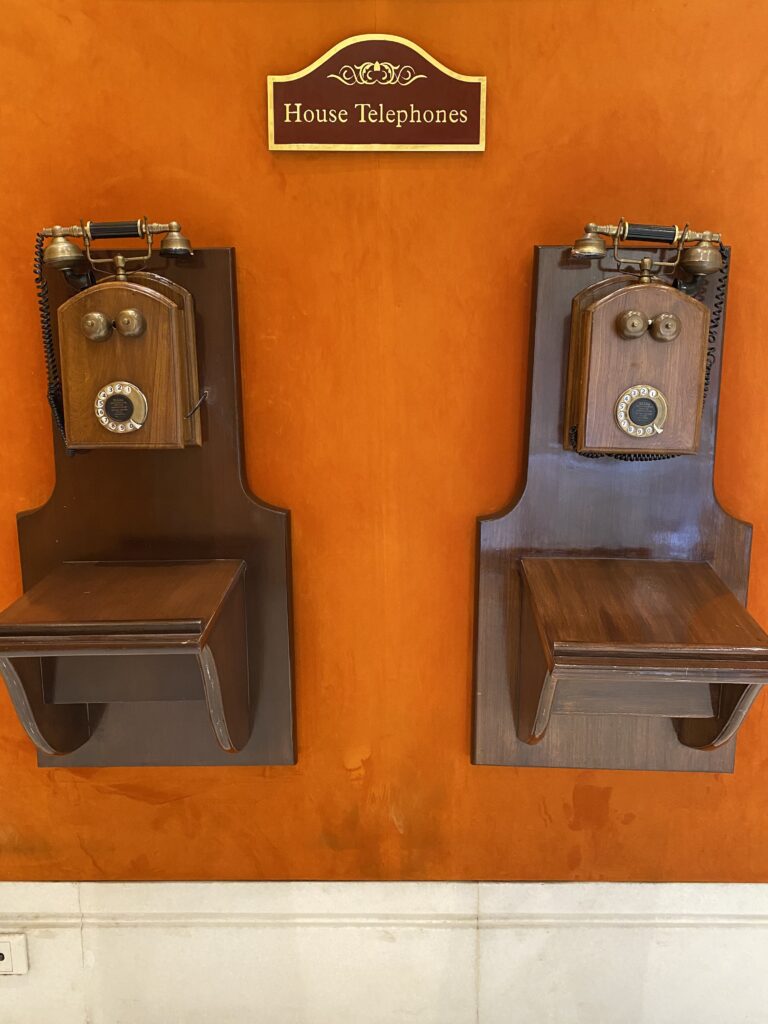 Check-in was a slow and painful experience. If you attempt to queue at one of the desks behind someone being served, out comes a member of the front desk insisting you sit down on one of the nearby banquets and wait to be invited to the counter. It's frustrating and unnecessary considering the ordeal you then have to go through when it's eventually your turn; filling in endless forms, surrendering passports for photocopying, taking forever to complete a simple currency exchange transaction. I've never been happier to receive a set of keys, which was short-lived once informed the club lounge would be closed during our stay.
First impressions of our assigned room were not good. Think of an airport hotel room from circa 1995 and you get the idea. What was booked and confirmed as a Rajputana Royale garden view room with club lounge access, featured a small window overlooking a brick wall. Back down at reception, I firmly communicated my issues insisting an alternative was sourced. This caused a lot of consternation as we sat around waiting while one supervisor after another came over to placate us without any real resolution. Finally, we were told the new room would not be ready for another hour due to high turnover. Not a problem for us, so we made our way over to Jaipur Pavilion—one of three restaurants in the Hotel, where we enjoyed some Indian classics to pass the time.
Three hours later, we finally made it to our new room. We may have wasted the day hanging around for a room swap, but like night and day, the difference was unbelievable. The ITC Rajputana Jaipur is in the process of renovating their rooms floor by floor, which they're not advertising to guests at the time of booking. As we found out, room allocations seem to be a case of potluck, because they certainly didn't take any notice of my member status with Marriott's loyalty program. If you're planning a stay at the ITC Rajputana Jaipur, keep this in mind and specifically ask for one of the newly renovated rooms in the hotel's east wing.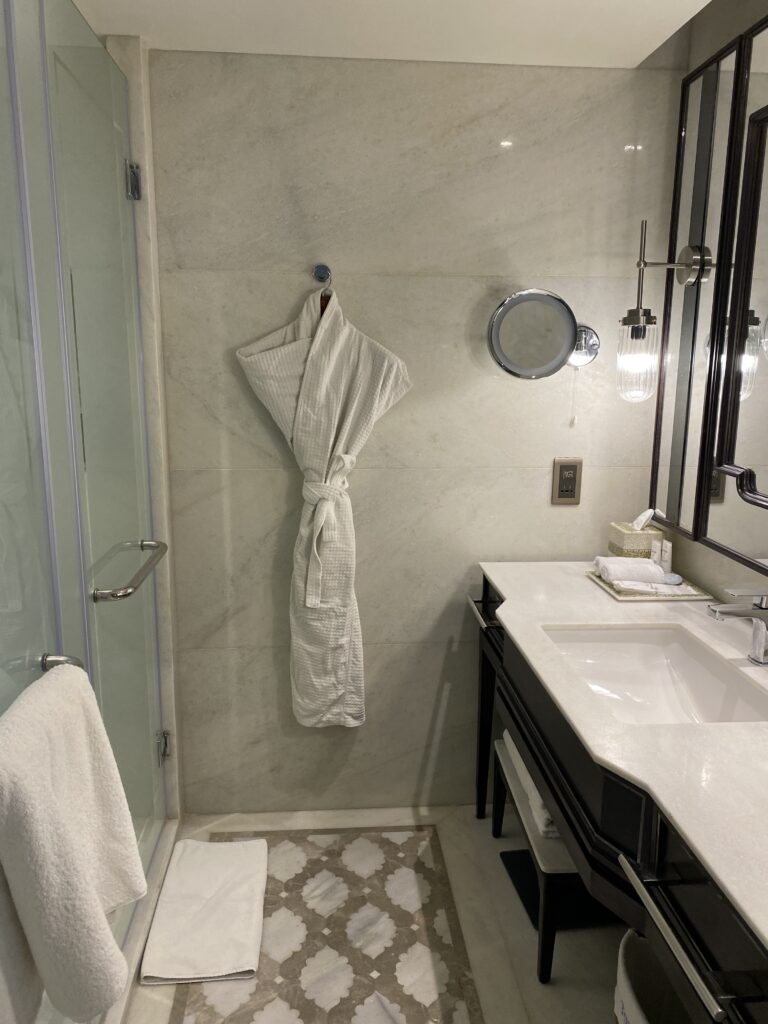 Mishaps aside, the refurb has been done to a good standard and the room was clean, bright, and inviting. Subtle tones of grey are carried through the soft furnishings, accented by lightly textured wood panelling, and fabrics in rich blues and bright golds. The room has a desk area and a small occasional table and armchair for lounging. The king bed was firm, with the floor space beneath a nicely polished dark marble partially covered with a decorative rug. The marble theme transitions to a softer light grey in the bathroom, which has separate enclosed spaces for the shower and toilet. Water pressure was good, bathroom amenities were of a local brand (just OK), and the space featured decent lighting. One pet peeve worth mentioning were the towels, which were always a dull off-white and inconsistent in quality/condition.

Breakfast at Jal Mahal was nothing worth writing about and generally poor in quality, although the convenience of having it included in our rate was a bonus. Jharokha is the Hotel's al fresco outlet, which services the pool area. I would classify this more as a bar that serves light finger food. With the club lounge out of action, we were offered the option to enjoy complimentary snacks and beverages at the Sheesh Mahal bar between 5:00-7:00pm. Located just off the main lobby, we tried this our first night and despite the long wait for a cocktail, enjoyed the experience. Dinner at Peshawri—the hotel's signature restaurant, involved speciality cuisine from the north-western provinces, based entirely on a coal-grilled cooking experience. This was a somewhat no-frills experience. Service was on point, and we enjoyed the non-vegetarian option, which was tasty and of high quality. Reservations are highly recommended, as the restaurant appears to be a favourite among locals and visitors.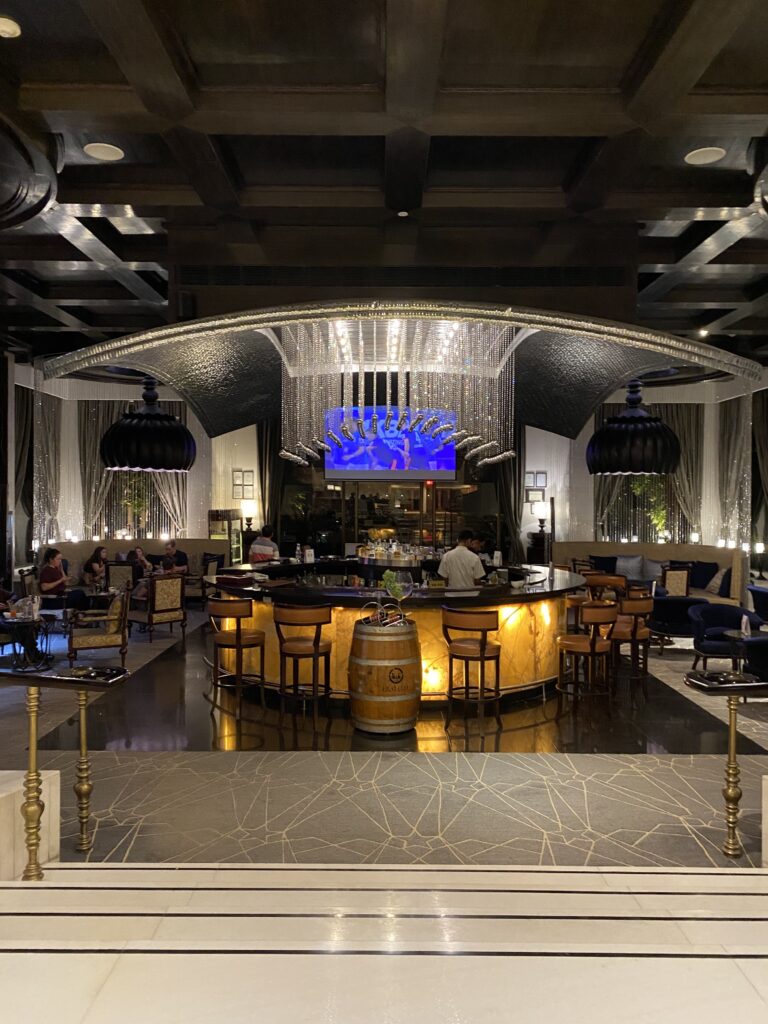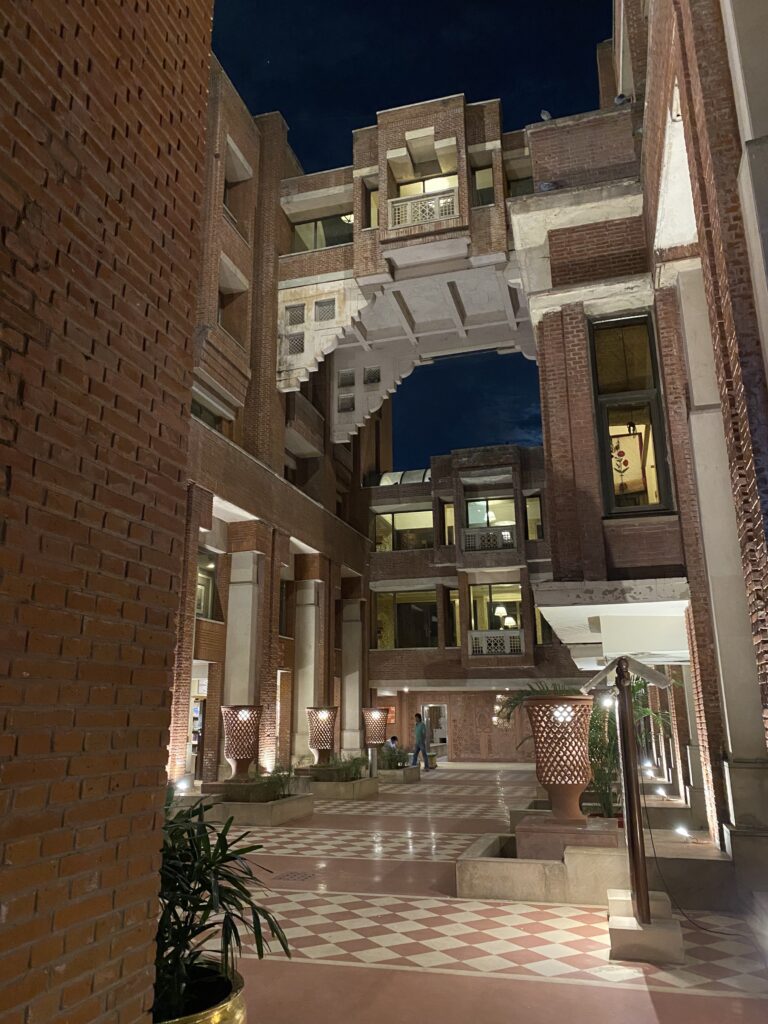 I pride myself on being a very independent traveller, who rarely feels the need to hire a guide or car to navigate a city. Jaipur really tested my patience on this front. I'm not sure if it's something unique to the city, but transportation in general was a nightmare. Uber is completely useless and apps like 'Ola Cab' (the local Uber) require you to sign-up using an Indian mobile number, which wasn't an option as we were using an eSim. You can't step out the hotel gates and simply flag a taxi or tuktuk, because you'll instantly be attacked by hawkers who are aggressively after your tourist dollars. Oddly, the hotel doesn't have a concierge desk or a simple way to order a taxi in advance. Instead, there's what is called a 'transportation' desk, which is only open for certain hours of the day and has the monopoly on pre-booking any service to get you from point A to B.

After spending the previous day trying to navigate our way around Jaipur by hailing tuktuks, getting frustrated, and doing an inordinate amount of walking, we got smart and booked a private car. This is an affordable option, and you can organize the hire time according to your needs. For 4-hours, which was plenty of time to get us to Amber Fort and stop off at a store we wanted to visit, we paid $25 USD for an air-conditioned car and driver. You can book in 2-hour increments, and we did the same for later that evening to dine off-property. Our driver met us at the Hotel's forecourt, drove us to our destination, and then waited for us onsite while we enjoyed dinner. Perfect and hassle free. We used the desk to also organize our airport drop-off, and I would recommend booking a private car in advance if you intend to be mobile during your stay. It will save you a lot of grief.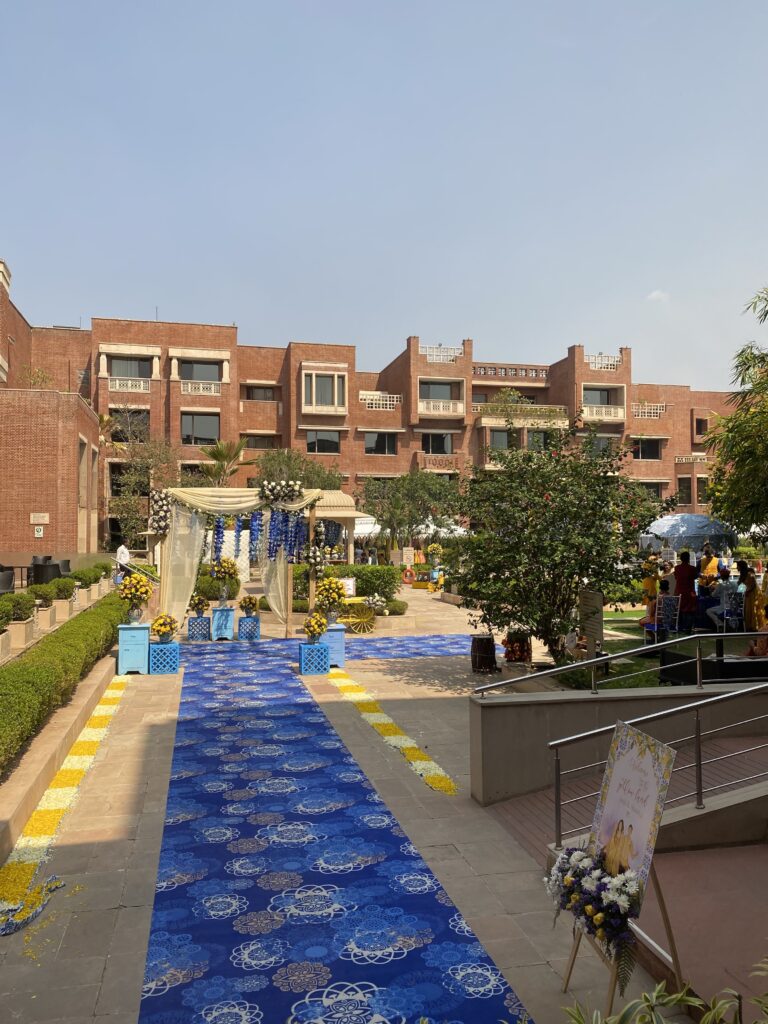 The Verdict
As a hotel experience, I found the ITC Rajputana Jaipur a little challenging. I didn't enjoy the amount of negotiation and pushiness required to resolve our room-related issues, which in my view, should never have been the case to start with. Unfortunately, when you get off on the wrong foot and it forms the basis of your perception, it's a little hard to recover from. This wasn't helped by the uneven service; great at the dining outlets and with housekeeping, not so great with the front of house staff, who were disinterested and apathetic at best.

I would also say Jaipur is a city that requires a well-planned itinerary even before you get there. It's great for rich architecture and historical sightseeing, but it lacks charm and is a difficult city to rally behind. Choose your hotel wisely. I had a very specific idea of where I wanted to stay, but in hindsight, understanding just how spread-out things are, I have a different take on what I would do if I was ever to return. It just won't be to the ITC Rajputana Jaipur.

Hotel – 5/10
Experience – 6/10