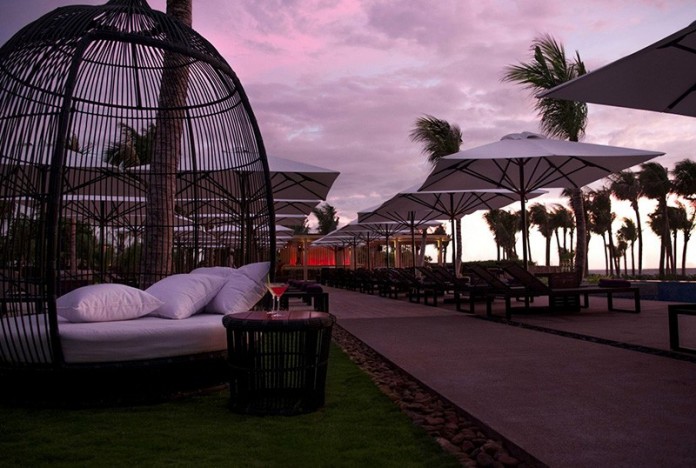 While we were very happy to be staying at La Veranda during our week in Phu Quoc, one of the things we felt let the resort down a little was the dining experience. There were plenty of alternative options, including the typical family-run eateries running along the beach and within the immediate vicinity of the resort. And we did try a few. But when in search of a touch of dinnertime sophistication, the fine dining restaurant at the Salinda Resort is likely to be the answer you're looking for.
At the time of our visit, this was the newest address in town, and an accommodation option we'd seriously considered for our second visit to Phu Quoc. In a market with very few high-end accommodation choices, the Salinda Resort is a great addition – if for no other reason than to dine at their restaurant, something we did twice during our stay on the island.
The restaurant is a bit of a walk from the reception area, and is set beneath the guestrooms, overlooking landscaped gardens with a sizeable swimming pool in the distance. The patio tables offer a better option for catching the cool evening breeze, as we found the inside spaces rather over lit, too hot and lacking personality. If you do take a table outside, the staff will offer mosquito spray (much needed) and will light limoncello-scented candles by your feet as an effective means to keeping the mozzies at bay.
Food-wise, our first visit was a strictly Vietnamese affair. We had the usual staples of fresh spring rolls (fragrant and bursting with flavor), the island's infamous salt and pepper squid, followed by grilled fish (grouper) with coconut rice and spicy noodles accompanied by a crisp sauvignon blanc from Marlborough. On our last night in Phu Quoc, we decided to go back again. Having had our fair share of Southeast Asian cuisine, this time we opted to have a steak night with a lovely French rosé to match. Preceded by killer cocktails, we also couldn't resist the opportunity to have the signature squid dish from our previous visit as our appetizer. Delicious.
The staff are charming and very eager to engage with you. We felt they were better trained than their peers doing the F&B service at La Veranda. On both occasions, our waitress was very keen to practice her English, and we enjoyed getting a bit more of an insider's perspective to island life and what it's like for young graduates eager to work in the tourism industry. For those who like some entertainment on the side, a Filippina chanteuse and her band regaled us with covers of the usual chart toppers. At the end of the evening, we strolled back to the open-air reception where the friendly front desk staff organized a taxi to take us back to La Veranda.
The Verdict
To set expectations, we paid circa $90 USD on each visit, which I consider excellent value for money given the quality of service and standard of meal we had (kind to a Western palate). I would rate the Salinda Resort, and highly recommended a visit if you're looking for an up-market dining experience in Phu Quoc.
Restaurant – 8/10
Experience – 7/10