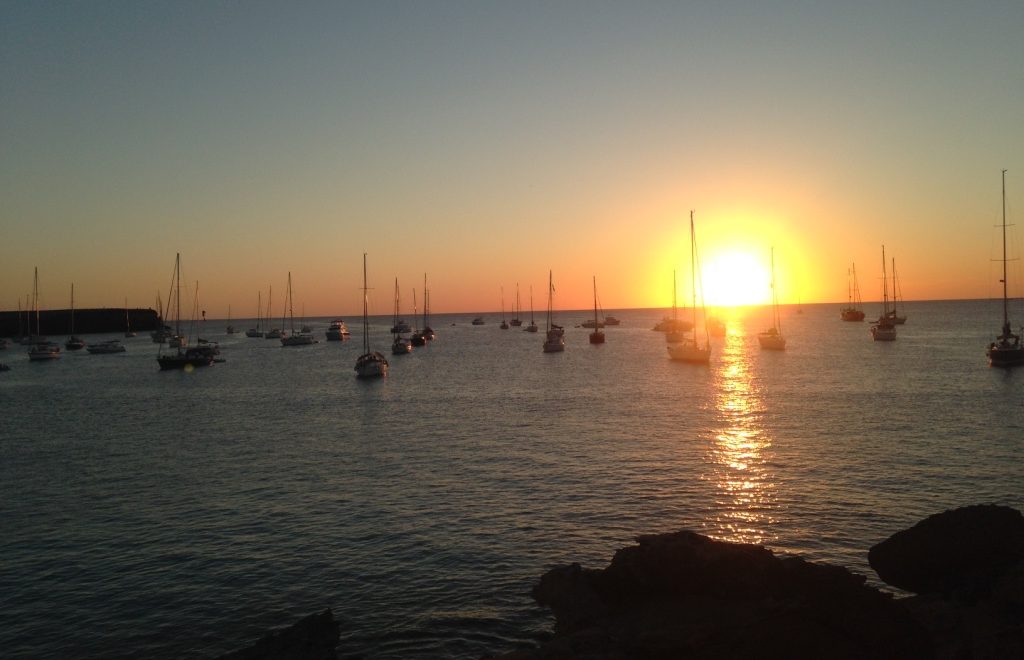 I've wanted to visit Formentera for as long as I can remember. Mesmerised by images of iconic Playa Illetas and travel editorial descriptions of a laid-back Bohemian lifestyle and sleepy seaside villages, I envisioned a way of life harking back to the 60's. Whether it was the inconvenience of not being able to fly there, poor holiday planning or just plain old elusiveness, it's taken countless trips to the Balearics to finally get me here. 
From our base in Ibiza, we took the hydrofoil from the Old Town marina. This is usually a 25 minute trip, unless you take the slower passenger ferry, which moves at the much more leisurely pace of 50 minutes. On arrival, be prepared to wait. All jokes to one side, there are a grand total of 18 taxis on the entire island, so if you're without your own transportation (rental car, moped or bicycle), the chances are you'll be waiting under the sun for a while. Call it a schoolboy error, but we made the cardinal sin of planning our trip to coincide with the last weekend in August. Note to self travel lovers: never attempt Formentera in August!
Our destination – the Hotel Cala Saona, is located on the western side of the island, a short 15-minute drive away from the marina. Consisting of a low-rise building with only 98 rooms, the Hotel sits among pine trees perched majestically overlooking glorious Cala Saona beach.
Recently renovated, my first impressions were of a Hotel done-up in a tasteful version of Ibizan whitewashed chic. I was amazed we managed to secure a room for the weekend at such short notice, and thought our 2nd floor guestroom was private, quiet and very comfortable without the need for any bells and whistles. The rooms are unfussy, decked out in ash wood and white furnishings, giving it a cool vibe that's matched in the bathroom – pristinely kept with a powerful rain shower. The public areas look and feel like a smart European resort, and in keeping with the breezy spirit of Formentera, offer lots of comfortable outdoor seating with sweeping vistas down to the waterfront.
Our weekend went by in a breeze. Squeezed in among all the Italian families on holiday, it's very easy to while away the day at the beach. It's not a private beach for Hotel guests, but the attendants make sure there's plenty of loungers for rent, and there's a nice little chiringito to grab cold drinks and snacks in between people watching. Cala Saona may not have the most pristine of Formentera's crystalline beaches, but it's very hard to beat the magical sunsets, an occasion in themselves with tourists flocking from all corners to catch the beautiful panorama.
The Verdict
We didn't venture away from the Hotel, as we found it easier to stay self-contained for such a short visit. An early outdoor breakfast, a spot of lunch or post-beach drinks at the beachside Restaurante Sol, a late dinner on the breezy terrace, and a restful night's sleep made for the perfect escape. From a cash perspective, make sure you have lots of euros on you. With the exception of being able to charge things back to our hotel room, this is an island where cash is king, very few places accept credit cards and unsurprisingly, most services are priced at a premium. My one sticking point would be the timing of our visit. High season meant there were just too many people (lots of loud Italians and extended Spanish families with plenty of kids in tow – yikes!) to truly enjoy the serenity of what the Hotel and beach would normally offer. Otherwise Hotel Cala Saona was a great find on an island of extraordinary natural beauty. We're already plotting opportunities for another visit.
Hotel – 9/10
Experience – 8/10