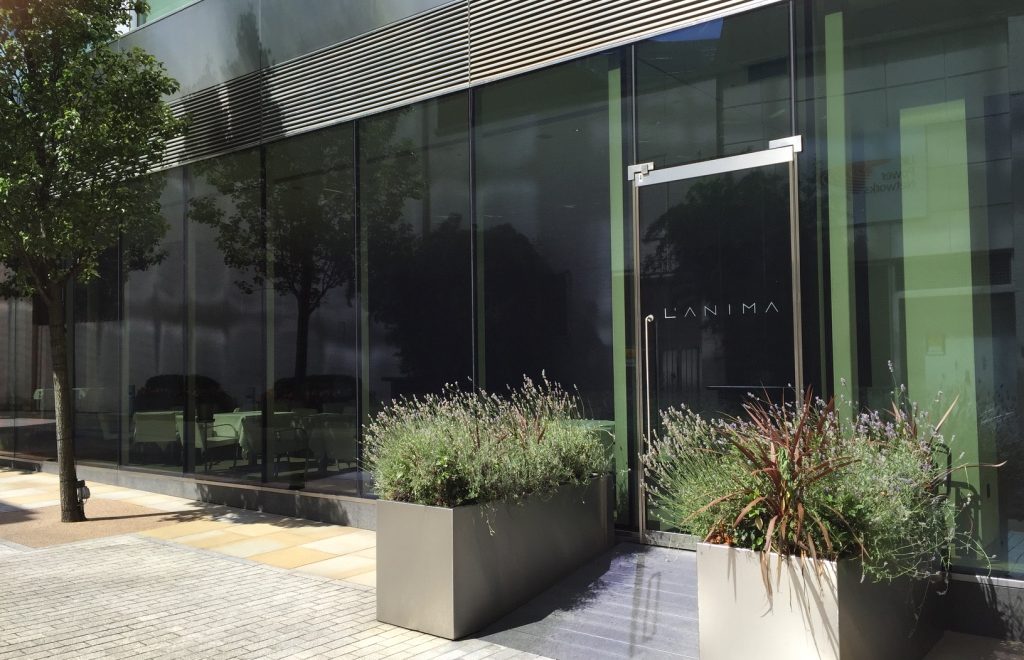 My experiences of Italy – be it when travelling the country, staying in its hotels or with the cuisine encountered – have always fallen into one of two distinct categorizations: annoyingly old fashioned or confusingly contemporary. Our visit to L'Anima was a case of the latter, and one I'd like to avoid ever having to repeat again.
Having an early dinner at L'Anima en route to a performance at the Barbican Centre, we were greeted by a large group of staff and quickly shown to our table. The premises are divided into two sections, with the main dining room to the left upon entry, and a sparsely furnished bar and cocktail lounge occupying the mirrored space. Interiors are strikingly contemporary, with beech floors, a large picture window running end-to-end, and pristine tablecloths adorning the white leather and chrome furnishings.
As far as bizarre dinner services go, this one is right up there. Like a revolving door, each item brought to the table was delivered by a different member of the wait staff. They were all perfectly polite, but anytime you needed something, it was hard to locate the right person to ask. And this is despite there being an army of people constantly to'ing and fro'ing about. Annoyingly and despite telling the sommelier that we'd like to pour our own wine, individuals would approach the table reaching straight for the bottle to attempt a top-up. The food was just mediocre at best; the meanest portion of dressed crab you can imagine, followed by a crustacean ravioli swimming in tepid, tasteless broth.
The Verdict
Avoid.
Restaurant – 5/10
Experience – 2/10
____
2022 update: L'Anima has ceased trading.