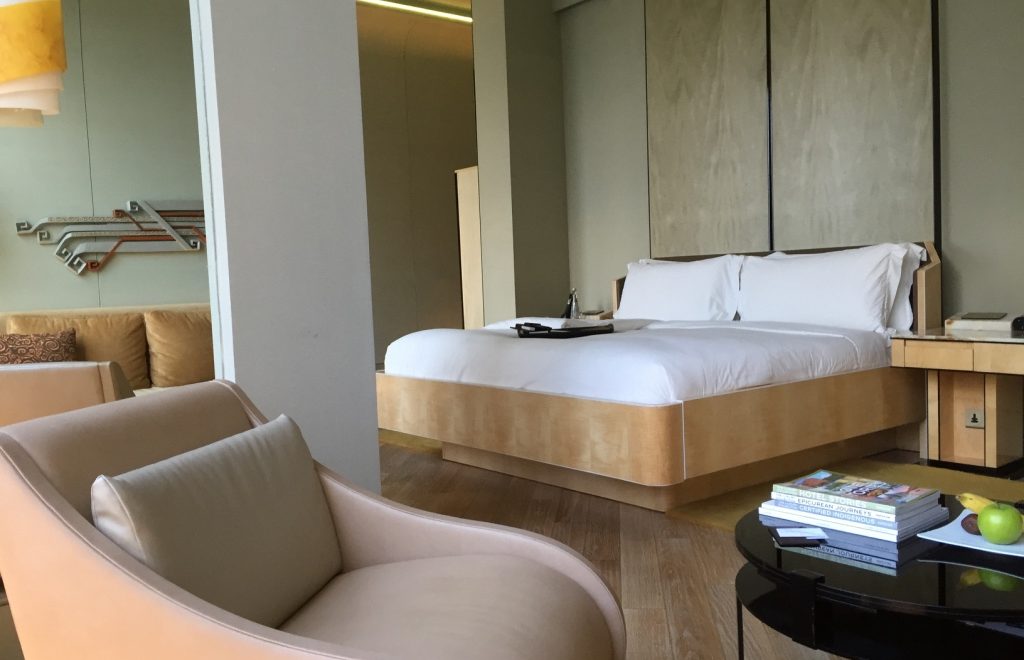 When it comes to an island nation like Indonesia, it's easy to forget just how expansive its territories are, stretching from Malaysia in the west, all the way to Papua New Guinea. Most luxury travellers will understandably head straight for the beach resorts of Bali or Lombok, but as we found out on our return leg from Southeast Asia, there's a whole other world of urban luxury tucked away in its bustling capital Jakarta.
How and why we ended up here was only thanks to scheduling conflicts and finding it impossible to get business class seats on Qatar Airways for the dates we needed to be back in London. A regroup and some creative thinking later, we modified our itinerary to spend two nights – including New Years Eve, in Jakarta to allow us to reroute from there. This included booking a short 2-hour flight from KL to Jakarta, and once again, I was reminded how cheap inter-region business class fares are in this part of the world.
One of the things that instantly strikes you about Jakarta is the vastness of the city, immediately followed by the amount of congestion on the streets. If Jakarta was a sound association game, it would be set to the sound of car horns and running motors. Getting ready for the big night out meant even more traffic than usual, which added a bit of extra time to our journey to the hotel. The Keraton Plaza is one of Starwood's Luxury Collection properties. Part hotel, part residences, it's located in the central business district where many of the city's 5-star hotels reside, connected to a high-end shopping mall – The Plaza.
We booked a grand deluxe room, which is the entry-level category of guestroom and cavernous by anyone's standard. Organized in an open plan studio format consisting of mini-lounge, a dedicated workspace and wait for it – the most amazing hotel bathroom I've experienced in a long time. This palatial marble bathroom features double enclosed showers and wash basins, a vanity area with seating, and an oval bathtub you could practically swim in. I loved our room, running the risk of never wanting to leave if it had not been for the arctic air-conditioning and unfortunate lack of soundproofing between rooms. Quite the oversight.
The Keraton Plaza prides itself on discretion and privacy, which doesn't just extend to the guestrooms. Many times, we felt like we were the only ones in the whole hotel. The concierge was very helpful in suggesting things to do on our quick whistle-stop tour, along with recommendations for where to dine on New Years Eve. If you're up for the walk, the National Monument, Istiqlal mosque, Gereja Cathedral and the National Art Musueum are all clustered together about a mile from the Hotel. We chose to visit the hipster neighbourhood of Kemang south of the city to shop for batik and wood-carved artifacts, after a morning spent at the infamous Menteng flea market. Have stamina, bargain like crazy and hold your nerve – these guys are no fools and will wear out even the most hardiest of shoppers among you.
Jakarta is a tough old city to navigate, and it can easily get the better of you. In the end we decided to spend NYE at the hotel. The Keraton Plaza had an evening of fine food, drink and live entertainment planned for residents and hotel guests, and we were quite happy to partake after a hectic day of running around and endlessly sitting in traffic. The food was extraordinary, and probably the best spread I've seen in a while. There were themed stations that were chef-manned, where most dishes were cooked to order, in addition to buffet stations consisting of excellent quality and choice. Alcohol was a little on the pricey side, but we were looked after with genuine enthusiasm and care, which I can't praise the staff enough for.
The Verdict
The Keraton Plaza is a shining example of how to do luxury hospitality impeccably in an urban setting. I enjoyed our experience tremendously and in many ways, felt glad our flight plans gave us the opportunity to visit Jakarta – a city we too would have bypassed in favour of other destinations. The hotel is ultra modern and luxurious, and we were well taken care of from the moment we arrived, looked after by the staff with care and attention. Highly recommended.
Hotel – 10/10
Experience – 9/10