"This can't be it…" were the words of disbelief uttered as the taxi came to a halt in front of Aramburu.
A darling of the Buenos Aires dining scene, Aramburu was to be the first in a series of foodie evenings taking place throughout the week ahead.  But when confronted by a blacked-out shop front on a deserted, graffiti clad street in downtown Buenos Aires, we were beginning to think we'd somehow got things horribly wrong. A panicked exchange with the Uber driver confirmed we were indeed at the right address. Which meant there was little else to do but watch the driver pull away as the other Mr. Highlife and I continued to stare at each other with raised eyebrows.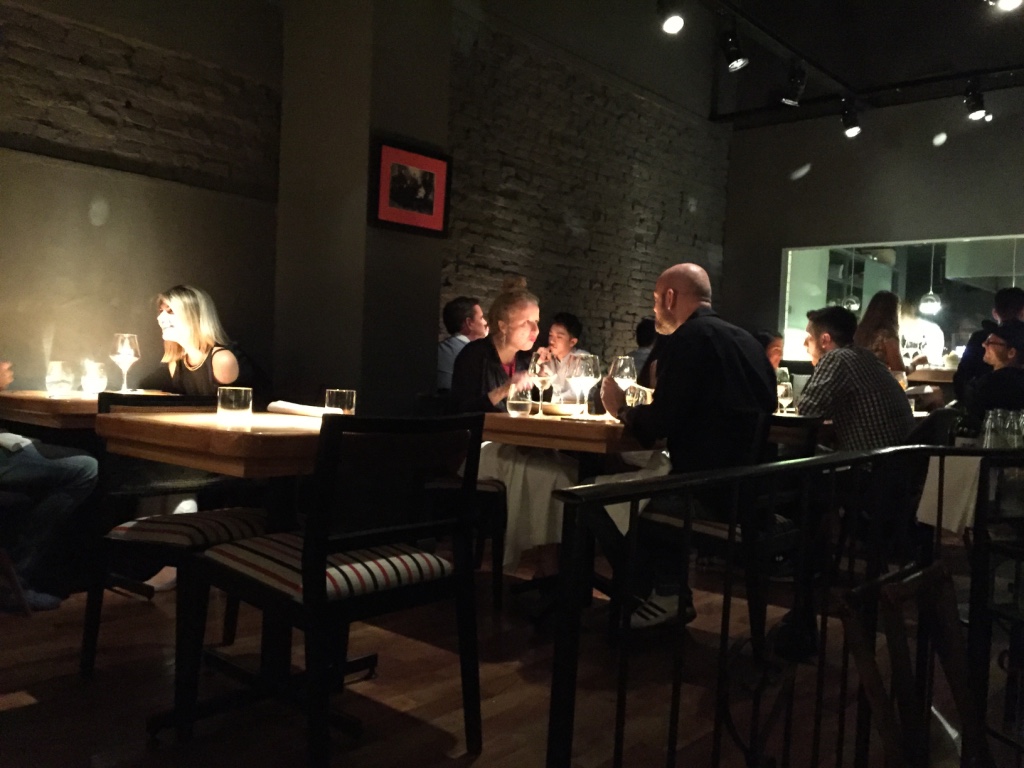 In retrospect, I can now look back and laugh at our jetlag laden confusion. It's actually rather fitting for Aramburu to have such a non-descript, anonymous entrance, because the real creative magic happens on the inside. Once we'd managed to get over ourselves and find the door buzzer, we were quite literally shown behind the velvet curtain into a cozy dining room where every table was occupied. The space is rather spartan decor-wise and quite dark with the exception of strategically placed spotlights,  framed by the open kitchen and two-seater chef's table at the far end of the room. Since we'd arrived way after our 10:00pm reservation slot (as one does in BA), we were immediately shown to our table.
The Menu
Aramburu doesn't have a set menu, instead opting to change what's offered on their tasting menu according to seasonal produce. There's a choice of a 10 or 18-course menu, along with the option of wine-pairing at an additional cost. I'd recommend doing this as it offers excellent value, roughly working out to one glass over two courses. As several of the dishes we had were bite-sized and compact, the wine does stretch far. The staff are also game about topping you up if you enjoy a particular wine – asking politely goes a long way!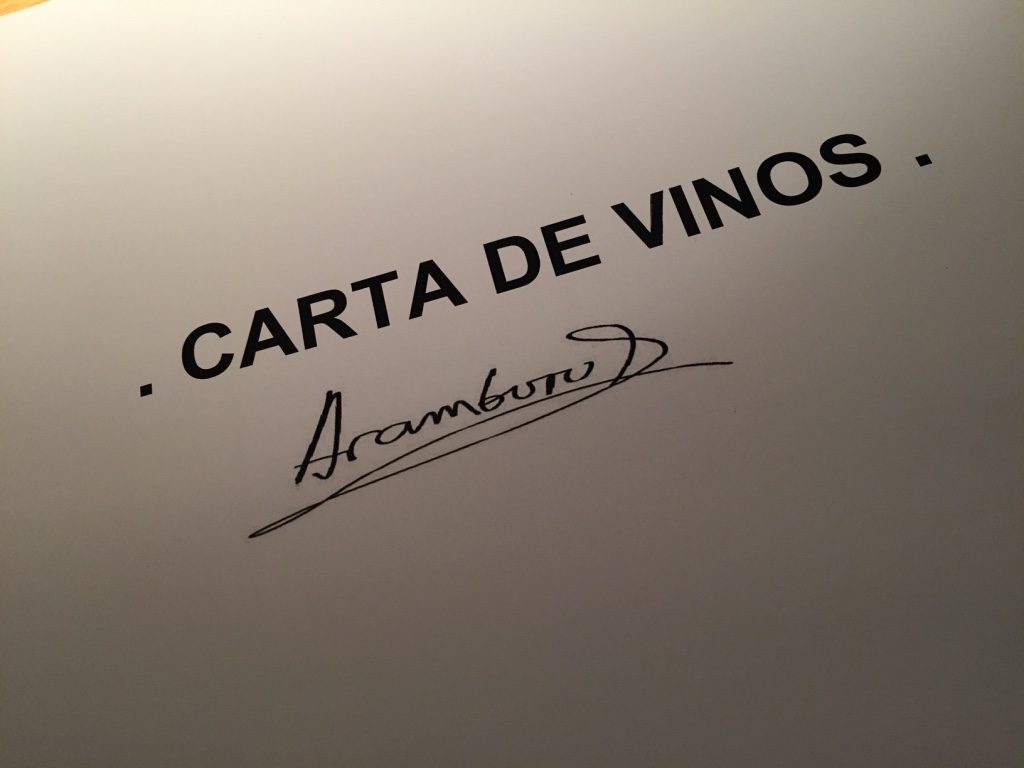 The Experience
In a buoyant mood of relief after our initial panic, we opted to have the 18-course summer tasting menu with wine pairing. I've had my fair share of tasting menus – some grandiose and memorable, while others boring me to tears or turning into a hot mess. As photos will attest, each course at Aramburu is beautifully presented with its own individual story, along with an explanation of why the specific wine we were sampling had been chosen to accompany it.
To commence, we were presented with a selection of 'coral-like' flatbreads lodged into a decorative seashell, which included corn breadsticks, a cheese twist, multi-seed and paprika flatbread.
This was followed by a trio of amuse bouche, including an onion roulade, a heavenly duo of blue cheese macarons and bacon of duck.
And then my favourite course of the evening: a galette of chicken pate and strawberry. A perfect dish, which there simply wasn't enough of.
Along with a glass of Baron B brut cava hailing from Mendoza (gloriously dry with tightly coiled bubbles), we were next served an octopus rolled in the thinnest layer of roast potato.
Artisan bread was accompanied by ash butter on hay and served with a craft beer produced on the outskirts of Buenos Aires.
As a first, I also got to sample an orange-coloured Torrontes wine from La Revolucion Estate. I also learnt it's the contact with the skin of the grape that gives it its unique colouring. Absolutely delicious pairing for my fluffy scallop dim sum with celery and chive foam.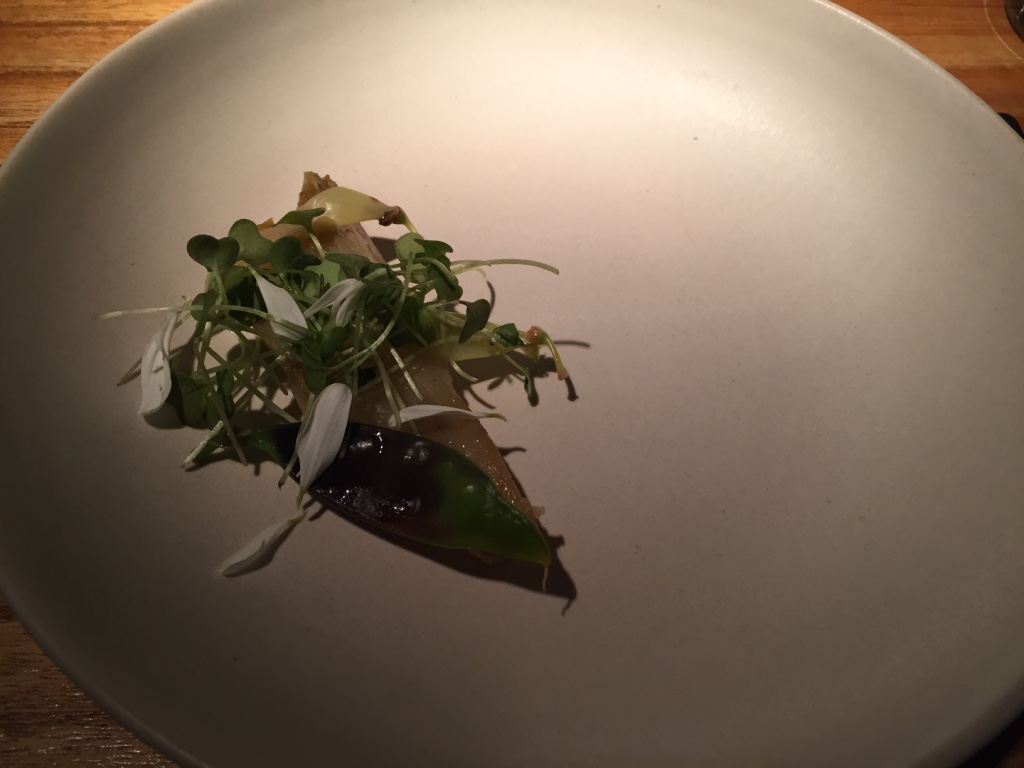 Seasonal salad swiss chard with edible flowers pea shoots and watercress.
Once the 2014 Luigi Bosca viognier blend was served, I was in heaven and had a momentary lapse in photography duty. Unfortunately I didn't manage to capture the signature Aramburu dish: lightly sautéed prawn served on a hot stone and topped with a crown of crispy vermicelli. A fragrant prawn jus is ceremoniously poured table-side to finish things off. This is a dish that's been unchanged since it was first served 8 years ago, and is a mouth-watering taste of the sea. Sublime.
This was followed by the catch of the day (sol) with cauliflower and green cabbage puree. I didn't care much for this course and could have easily done without it.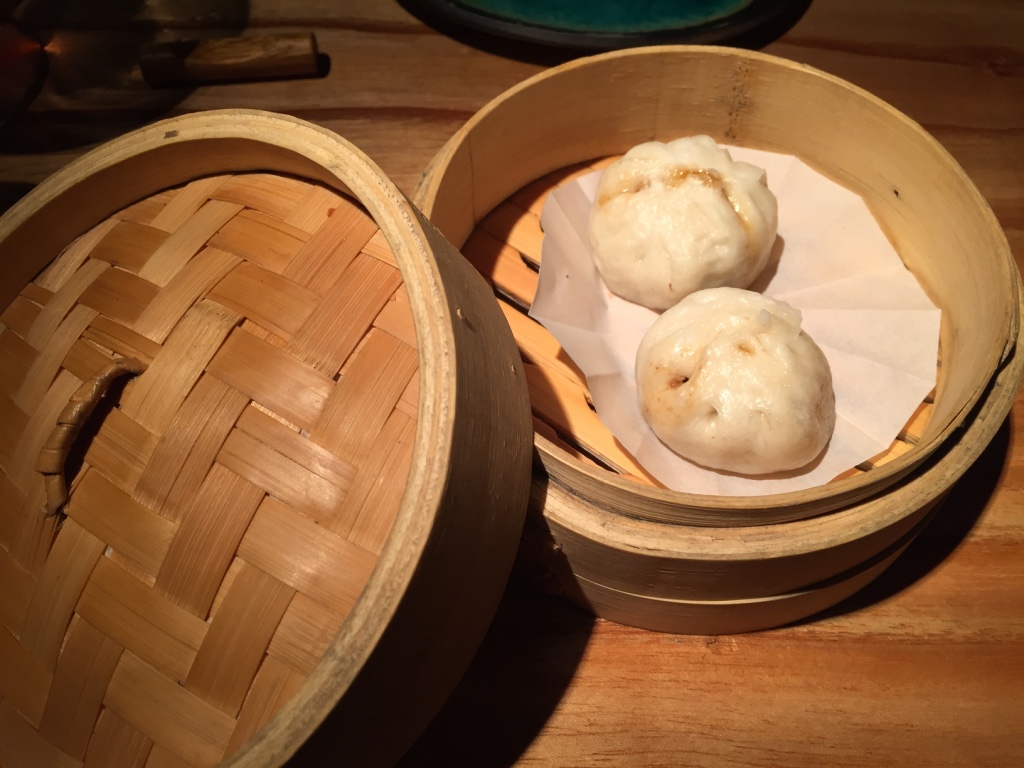 The beef dumpling with oyster sauce was a little soggy, but tasted full of flavour. We had this with a Barca Estate pinot noir from the Patagonia region.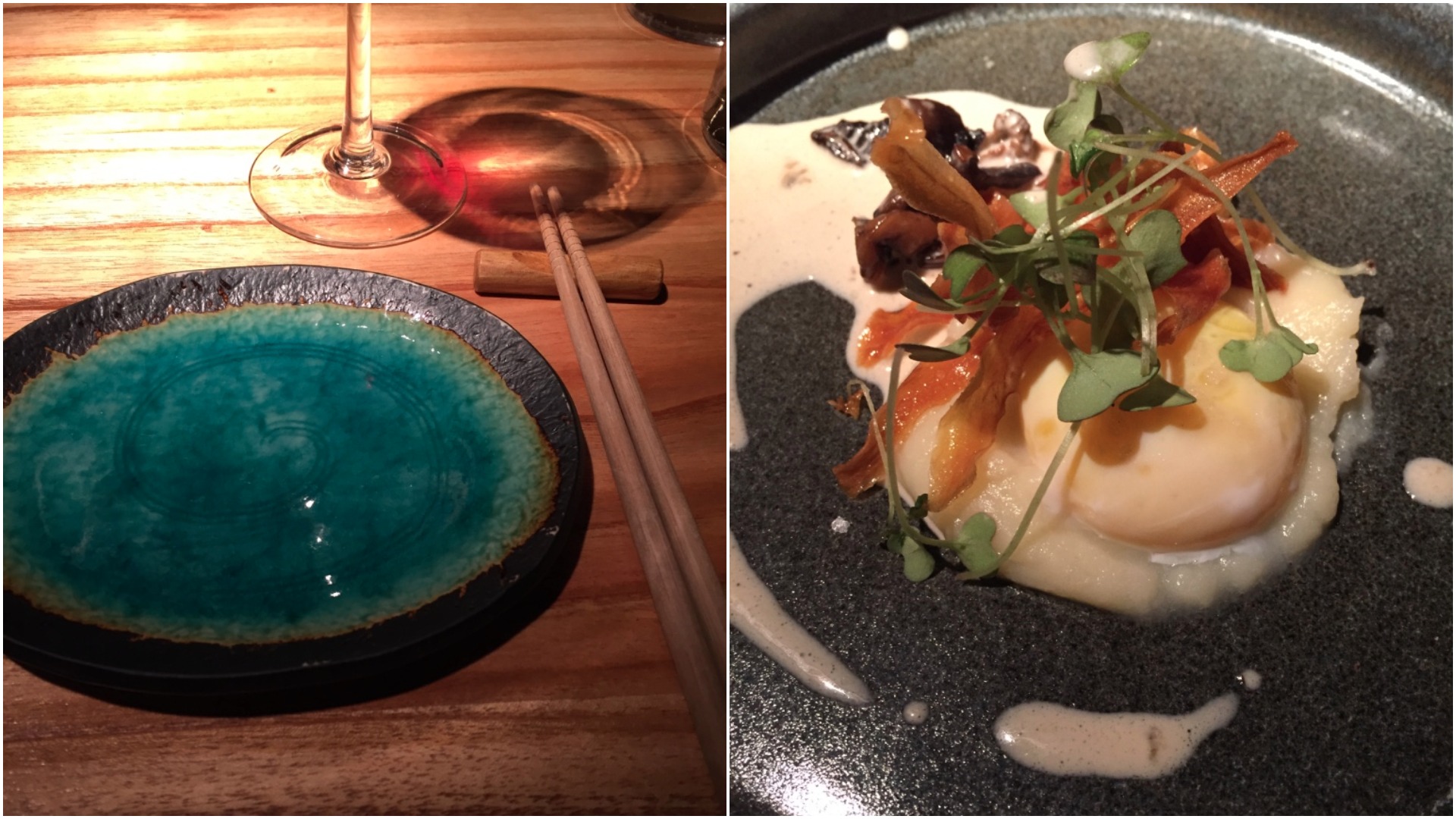 Yolk of egg on mash potato with morels and mushroom sauce.
An oaky chardonnay was poured with the caramelized cabbage and pear ice cream.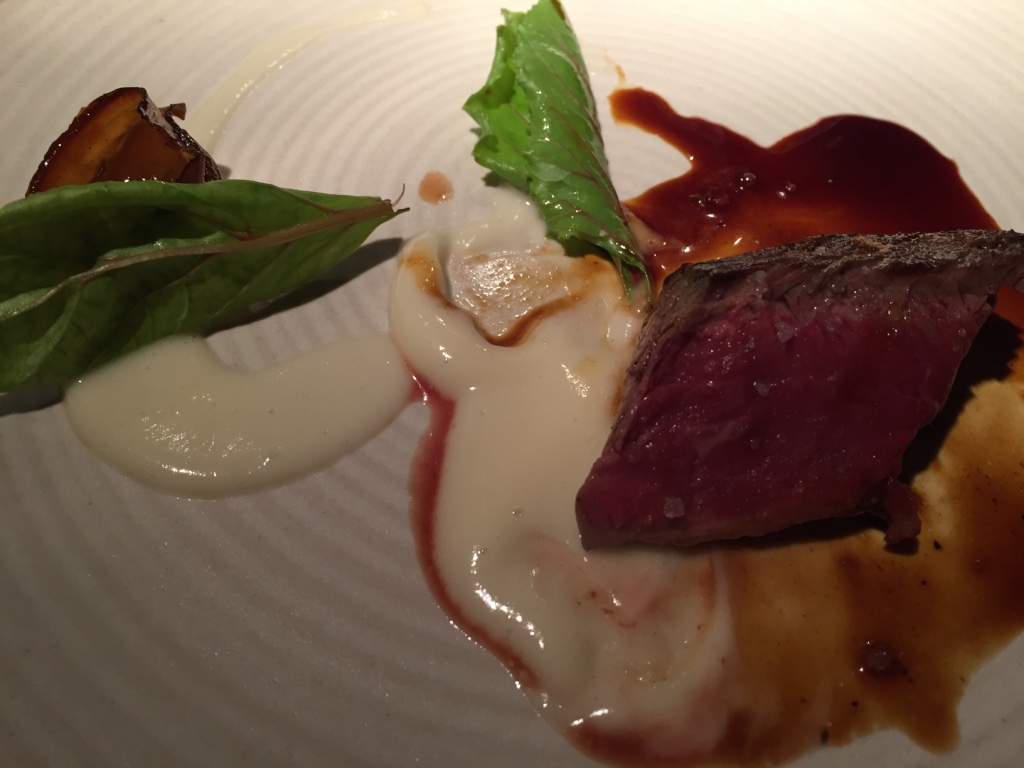 Beef with celery puree and glazed sauce and basil leaf, which was accompanied by a 2015 unoaked malbec from Colome Estates.
Palate cleanser of grapefruit sorbet and lemon granita, which was followed by an ice-cream flavoured meringue with salted caramel ice-cream.
And the final course; a sinful chocolate brownie with crumble base, chocolate disc and an interesting eucalyptus ice cream to boot. This was served with a classic Saint Felicien dessert wine tasting of apple pie from the renown Catena Zapata Estate.
The Verdict
Another staple of the San Pellegrino list of top 50 restaurants, the textures, unexpected surprises and bursts of flavour made for a wonderful experience to kick-off our Buenos Aires dining extravaganza. With only about 25-30 covers, it's essential to book in order to grab a coveted table at Aramburu. And when you do show up at the address of 1050 Salta in San Telmo, I'll forgive you for thinking you've arrived at an abandoned bunker.
Service had an appealing pace without making you feel rushed, and despite dining for over three hours, 18-courses later, I didn't have a trace of feeling over-indulged or comatose from food. If nothing else, it's a testament to the thought and expertise head chef Gonzalo Aramburu has put in to creating dishes of great quality and ingenuity.
Restaurant – 8/10
Experience – 9/10