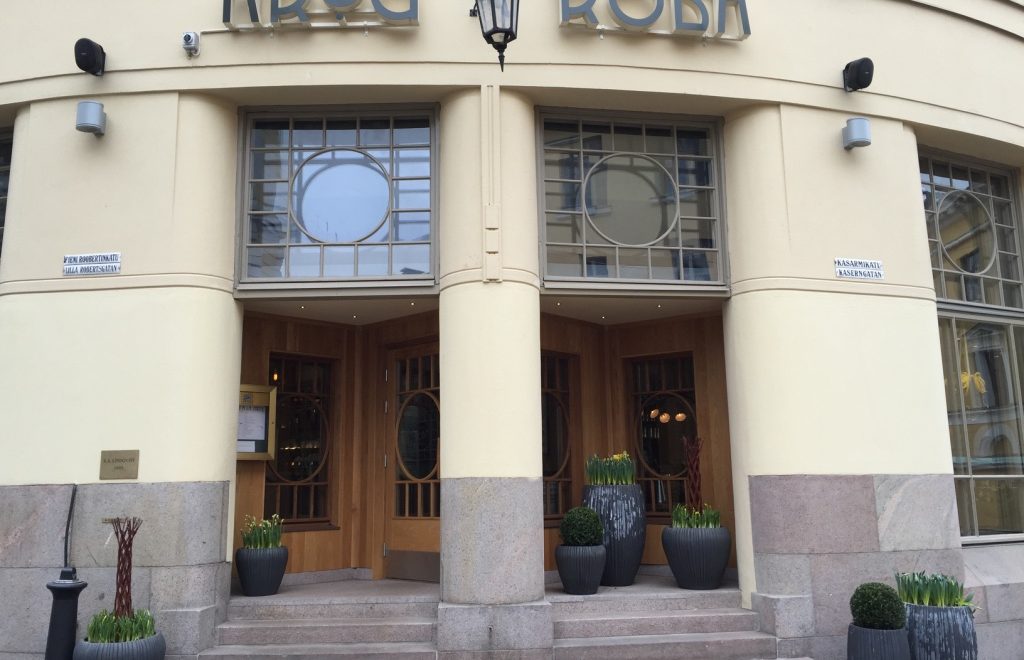 One of the advantages of staying at a hotel like the Lilla Roberts, is having access to it's excellent onsite bistro, Krog Roba. This helped us resolve the small issue of where to eat dinner when you're feeling jet-lagged, can't be bothered to trek out in search of a restaurant, and are visiting during a holiday where the whole city has pretty much shut down for the weekend.
Despite being a new addition to the neighbourhood, there's a homely, well-weathered feel to the place, which combines farmhouse furnishings and spectacular tiled floors with design classics like Mooi's iconic Dear Ingo ceiling lamp for extra ambiance. An ode to the national cuisines of Scandinavian nations, the menu at Krog Roba is, well… very Nordic. I can't say that it was my most memorable meal had in Helsinki, but it was a potent reminder of how the foraging-based movement in this part of the world is such an omnipresent part of the national food identity. For my starter, I had thick mussel soup dressed with scallops, followed by a salad of hand-peeled prawns with organic egg and horseradish. My main course consisted of a fillet of roast salmon, accompanied by brussels sprout and roe sauce. The latter was a delicious mouthful of fresh water salmon if I ever had one, and the acidic grüner veltliner cut through the fishy taste beautifully.
The Verdict
Krog Roba operates a simplistic menu, with only a handful of starters and mains to choose from to keep things manageable. The food is expertly prepared and would make a good first initiation for any Nordic food virgin. As we were leaving for the airport, the place was completely packed out with people enjoying brunch, which led me to believe that this might be a better option for a languidly spent afternoon luncheon.
Restaurant – 7/10
Experience – 7/10