As any Londoner will attest, this is a city where you end up collecting a vast number of former residences. The speed and frequency in which you change address, only comes to a resolute stop once you sign your life away to eternal debt by becoming a homeowner. Otherwise, it's a steady succession of unremarkable rentals, where the chances of finding an affordable flat within zone one, along with a landlord who isn't a flaming lunatic, is about as likely as owning a pet unicorn.
I did have one such apartment though. Shortly after moving close-by, I remember the irritation I felt over London Bridge becoming a cesspit of a construction site, leading to constant road closures and chaos all in the name of constructing The Shard. As a fan of architect Renzo Piano's work, I developed a love and hate relationship with the building, admiring the boldness and audacity of the design, yet siding with its critics who dubbed it as 'London's perennial eyesore'. The chaos eventually drove me further east, and I often reminisce about my lovely flat overlooking the Thames that wasn't meant to be.
For many years I avoided The Shard at all costs (yes I hold a grudge) – even when the hot restaurant du jour Aqua Shard opened its doors to rambunctious reviews, I remained uninterested. It was only when the luxury Shangri-la hotel group took up residence that I decided the time had come for me to put aside my long history of contention. I was to treat my dining experience at Ting Restaurant like a pilgrimage; ascend into the heavens, admire the celestial views across London and cleanse myself forever with the finest food and drink on offer. Or at least that was the idea.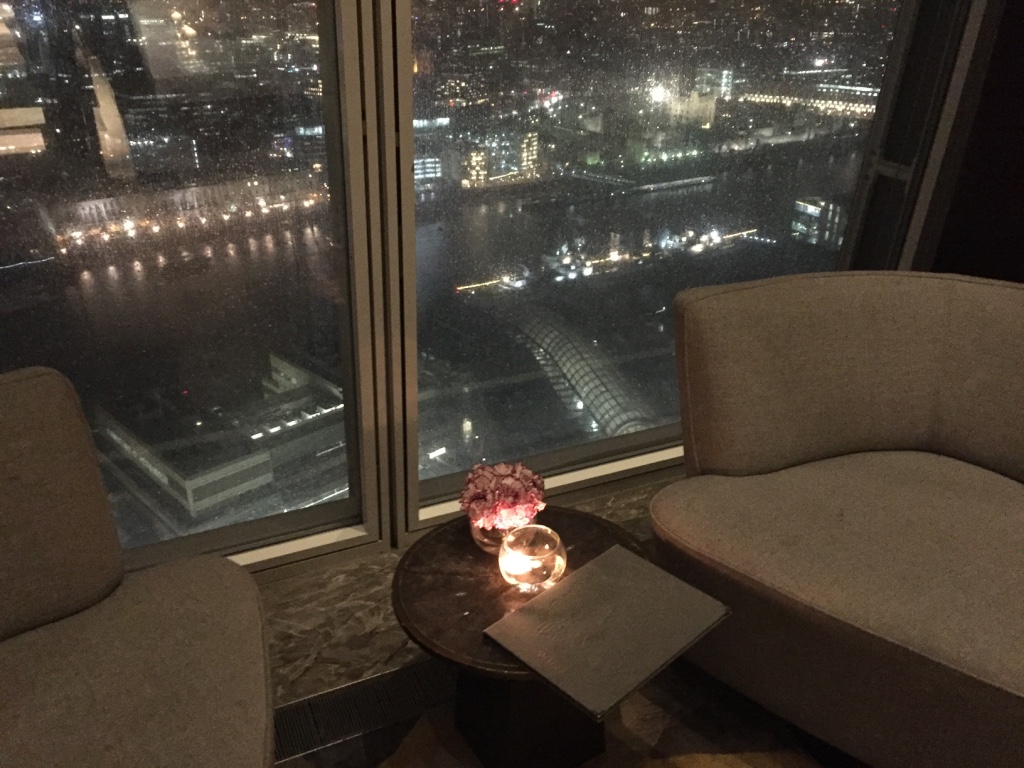 Among other things, Ting Restaurant at The Shard, suffers from an identity crisis. With a presumed nod to the oriental heritage of the Shangri-la brand, Ting ('living room' in Mandarin) is described as a modern European restaurant with subtle Asian influences housed in a 'Chinoiserie' inspired setting. Located on the 35th floor, the views as you would expect are breathtaking, even on a rainy night such as the one we encountered. There's a small lounge adjacent to the main restaurant where you can have a pre-dinner aperitif, or you can also descend a floor down to the so-called champagne bar – a dark, soulless and confused space with pushy, charmless staff. Neither felt particularly welcoming and afterwards, we were sorry we didn't go up to the 52nd floor to experience Gong, the hotel's signature cocktail bar.
So off to the main dining hall we went to be seated in a very grown-up setting, full of people speaking in hushed tones. On the positives, there was a good ratio of staff to diners, with the usual hierarchical service ethos you'll encounter in high-end establishments. We had a decent table, which as I'd requested, offered unobstructed views over London's landmarks. The dining room consists of one long primary space done in muted tones, with a smaller seating area by the open kitchen.
The menu itself was short and manageable, making good use of seasonal ingredients with a fair amount of my favourite go-to dishes. While the wine list consisted of a great selection of vintages, much of it was overpriced due to the exorbitant mark-up. Why London restaurants continue to rape their wine-loving patrons, I simply cannot fathom. As much as you know you're in a five-star setting, both the menu and wine list pricing were still a little tough to absorb. I had the forgettable seared scallops with Jerusalem artichoke, leek and truffles to start with, while the other Mr. Highlife sampled the tuna tataki, which was a little bland despite being beautifully presented. I was bitterly disappointed not to see the lobster ravioli on the menu, which would have made up for the mediocre starters, but it wasn't to be. Instead I tried the experimental lobster tail with cumin yoghurt, chutney and rice – a butchered waste of lobster that just didn't work for me. The halibut dish with champagne foam, rainbow chard and carrots was well cooked, but the polar opposite to the refined presentation of the tuna starter. It was a bit of a mess. We skipped dessert on the basis of not wanting to be disappointed any further and promptly got the bill.
The Verdict
Dining at Ting Restaurant, there isn't a chance in hell you'll be allowed to forget where you are. This is fine-dining with a fine price tag associated with it. And that's OK, however it's a shame there wasn't more of a sense of satisfaction, as we left dinner feeling unfulfilled and even to an extent, bored by the experience. There was no sense of joy associated with the occasion, and even against the most glorious of backdrops, the whole place felt staid and stifled. We could have been anywhere, which I think speaks volumes of the food encountered as well; a fairly innocuous, forgettable dining experience I won't be aiming to repeat again anytime soon. So much for celestial pilgrimages…
Restaurant – 5/10
Experience – 5/10