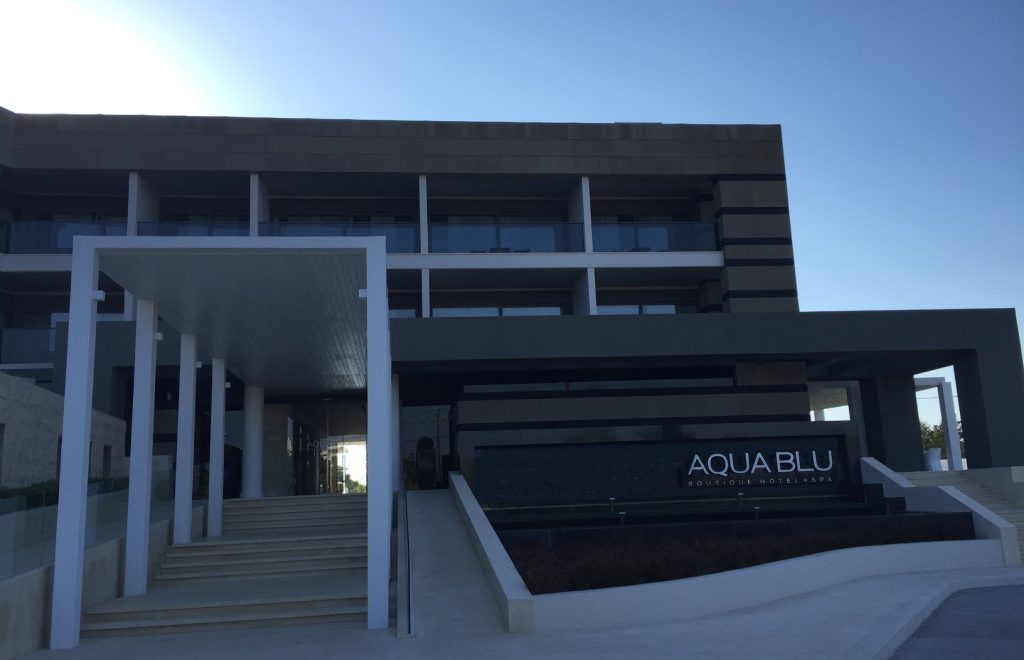 With so many challenging incidents happening across Europe, the other Mr. Highlife and I debated long and hard about how and where to spend our European summer holiday. Taking into consideration how much adversity our Greek neighbours have been facing recently, we thought their economy was most in need of our tourist dollars and so we settled on the island of Kos.
We've both visited several Greek islands before, and while neither one of us had previously been to Kos, we felt it fit the brief close enough to get the most out of a short-haul escape in the sun. We consider Christmas and Easter break the times when we go off in pursuit of long-haul travel, so this time around our requirements were pretty straightforward; a flight under 4 hours, an upscale resort where we could be self-contained on our own beach and location-wise a hotel that wasn't too isolated to make way for offsite evening outings.
The resort we chose – the Aqua Blu Boutique Hotel, is located on the northern-most tip of the island at Lambi Beach, 25 minutes from Kos airport and a 20-minute stroll from the old town. This is an adults-only boutique property, on an island where the hotel stock is rather limited. Part of the Small Luxury Hotels portfolio, the 51-room resort is by far the smartest address on the island and bills itself as 'the ultimate destination for luxury and contemporary design'. And on the surface of things, it does the description justice. The low-rise build occupies a corner plot and the surroundings have been designed as an ode to resort cool; think lots of white leather and chrome, shiny marble floors, and modern architectural flourishes to complement the airy interiors. Much of my first impressions reminded me of the Belvedere in Mykonos, which was a promising sign.
We'd booked a deluxe room that opened on to a nice balcony overlooking the bay. The room was not great – sparsely furnished, noisy (thanks to paper-thin walls) and on the small size, which meant the rigmarole of changing rooms after our first night. We upgraded to a suite, which was much more spacious yet still didn't resolve my dislike of the open-plan bathrooms, apparently a standard feature through-out the hotel. There's a small toilet cubicle with an odd sliding glass door for privacy (sic), but otherwise the basin and shower area have no door to speak of. This therefore necessitates guests to be on very familiar terms with each other – not so much of an issue for couples, but I just can't see how this set up would be comfortable for friends sharing a room. Closet space was still limited – even in the suites, but on the plus side the beds are comfy and housekeeping deserves a special mention for cleaning to a consistently high standard during our entire stay.
Downstairs the set up is pretty, with the focal point being the l-shaped swimming pool. There's a fair amount of sun loungers packed on the lawned periphery and the resort has sensibly installed a glass partition to keep out the strong winds while not interrupting sea views. There's a nice covered terrace, ideal for having a few drinks or when wanting a spot of lunch as a break from sun worshipping. This backs on to the formal bar and lounge area, again a nice space but sadly under-utilized by guests through-out our stay.  There's a formal dining room to the left of reception with an outdoor terrace, which is also where a rather monotonous breakfast is served. On lower ground level is a poorly equipped gym and the full-service spa, which we didn't care to try. The staff should be praised for always being on hand to help, working tirelessly and often fulfilling multiple shifts to balance out the guest to staff ratio.
The Verdict
The Aqua Blu is the right option if you're adamant about visiting Kos as your holiday destination. The resort tries very hard to raise the bar by providing commendable service and a spot of adult sophistication, but there were many things we disliked about our experience. We ate at the hotel several times – twice a la carte for dinner, lunch on several occasions and once during one of the specialist themed nights, and they were all sub standard at best. Definitely an area for improvement. We attempted many times to use the beach, and were always forced back to the secluded comfort of the pool area because of high winds blowing up sand in every direction. When you consider we chose the Aqua Blu on the basis of beach proximity, the unpredictability of winds put a damper on things and we ended up hiring a car just to escape repetitive days by the pool. At a cost of almost €400 per night, there's much better value you can get across a whole host of Mediterranean resorts. Drop me a line if you'd like a recommendation or two.
Hotel – 6/10
Experience – 5/10