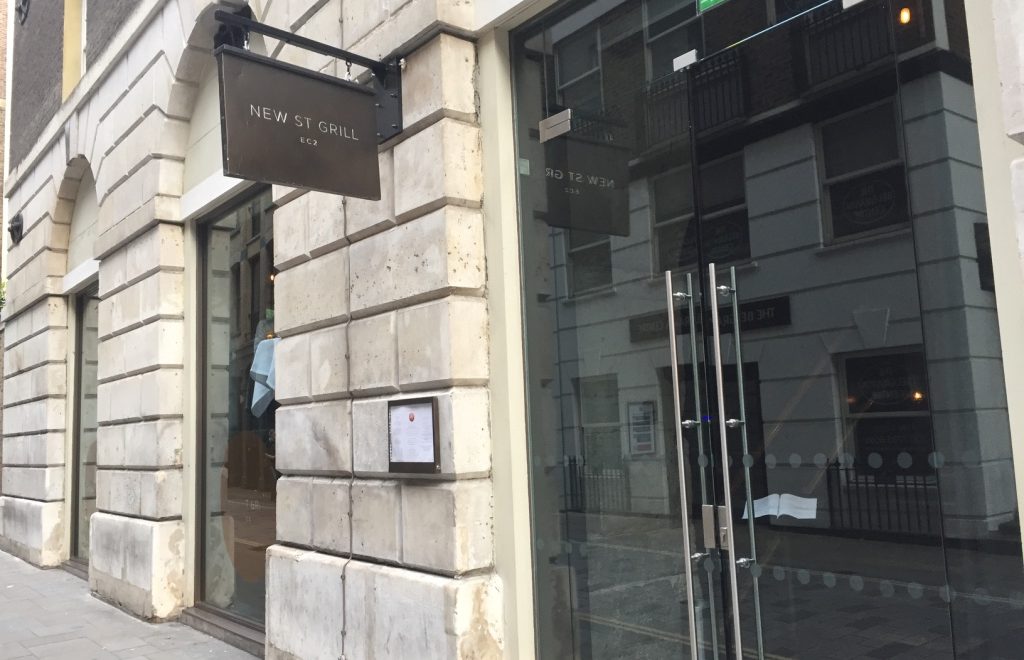 The immediate area surrounding Liverpool street has always offered a host of excellent eateries. Spending time at our South Place offices meant regular post-work outings to staple classics like Galvin La Chapelle and Angler, which always guarantee a great night out. In more recent years, there's been a revolving parade of new hits like Sushi Samba and Eyre Brothers appear alongside some less successful outfits like L'Anima, Rhodes 24 and City Social.
Each time I walked through New Street on my way to Devonshire square or drinks at Cinnamon Kitchen's Anise bar, I'd clock the diners through the large picture window, making a mental note to reserve a table soonish. So one warm June evening, I made a date with the other Mr. Highlife for a fantastic meal of josper-grilled steak, excellent wine and charmingly efficient service.
New Street Grill still has remnants of the 18th century Old Bengal Warehouse it currently occupies, where once upon a time they used to store tobacco and exotic spices. From the vaulted brickwork to the characterful wooden floors, you can still see remnants of the building's original history still incorporated into the restaurant. There's a gorgeous bar area that opens up to an outdoor walled garden, where on weekend nights live bands play jazz under the night sky. It's also an overflow area for al fresco dining.
With the primary attraction being the josper grill, I was more than happy to indulge in a nice piece of aged steak. My filet was perfectly grilled with triple cooked chips, red wine jus and a side salad of greens. Preceding this was a scallop starter prepared with charred spring onion and tomatoe, ending with a refreshing coconut parfait, which was accompanied by fresh coconut slices and mango sorbet. We washed this down with a malbec blend Profundo from Mendoza. Simple yet stunning.
The Verdict
There's something so very reassuring when the built-up expectation is completely warranted by the actual experience. This was slick, sophisticated and grown-up dining by anyone's standard, and we left feeling buoyant and extremely satisfied by the quality of our meal and the competent, charming staff who delivered it.
Restaurant – 8/10
Experience – 9/10