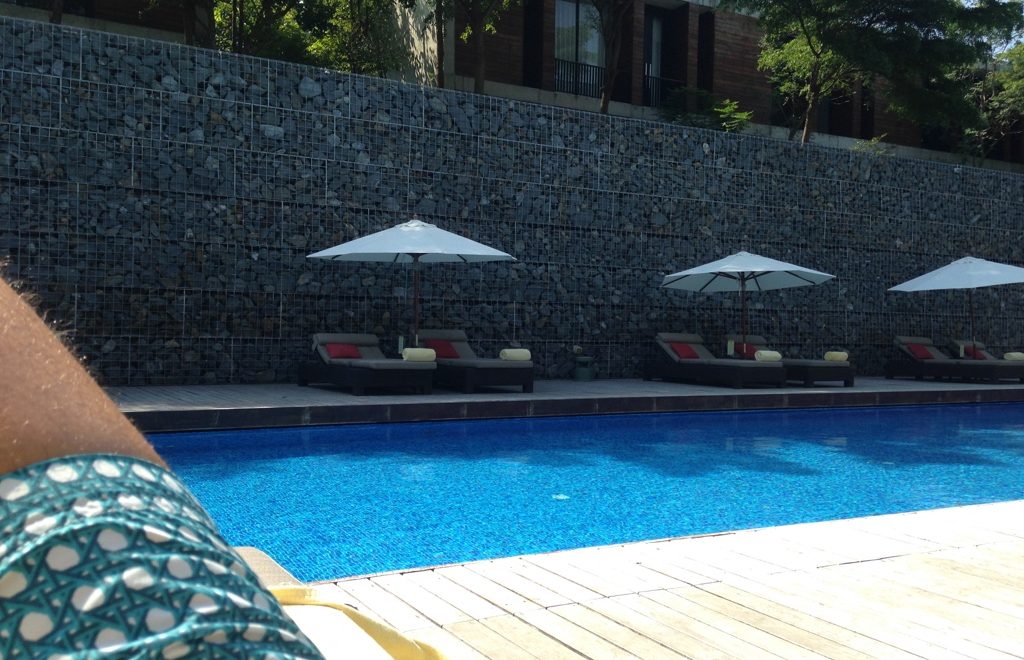 Towards the tail-end of our visit to Thailand, we found ourselves with a few days to spare, unsure about where to go and what to do. From conversations with fellow travellers, we'd heard the islands in the Gulf of Thailand were having horrendous downpours, ruling a revisit to Koh Samui out of the question. Not particularly wanting to hop on another flight, we decided to head in the direction of Hua Hin, towards the west of Bangkok, booking a few nights at the Hotel de la Paix – a design hotel belonging to the French Accor group.
The Hotel de la Paix is a unique resort, with minimalist, simple lines and a bold aesthetic. While we loved the austere feel to the resort, we were frequently reminded that minimalism requires everything in sight to be in immaculate condition. This was sadly not the case with walkways in need of repair, chipped floors, tired decor and much wear and tear throughout the public areas. We upgraded to a pool villa, which had lots of space with its separate lounge house and sleeping quarters centred around a decent sized private pool. There were some truly bizarre design statements – especially in the bathrooms, where the gigantic rainshower feature essentially turned the space into a wetroom of pooled water.
Grounds-wise the Hotel de la Paix has two swimming pools to cool off, and the adults-only pool was actually a serene escape, well maintained by the staff. The food experience at breakfast was a bit hit or miss, but we did enjoy the open air restaurant Clouds Loft, offering the most consistent dining experiences of our stay. There's a full service spa where we spent a day being pampered, which was a great stress-buster. You shouldn't expect too much from the beach, though again this has nothing to do with the hotel as Cha-am and Hua Hin in general don't offer much in the way of postcard-pretty beach experiences.
Overall this was a challenging experience. It would be unfair to pin our discontent on the management and staff of the Hotel de la Paix, as to their credit, they try very hard to deliver service that's attentive and focused on guest satisfaction. Ultimately, what the resort suffers from is an architect and design team more interested in creating a vanity project for architectural digest, than a resort experience centred on substance and relaxation.
The Verdict
The minimalist aesthetic of architect Duangrit Bunnag is one that may appeal to your design sensibilities, but what he and his team lack is foresight, practicality and a sense of anticipation around what guests want from a hotel experience. As much as the resort is marketed as hip and trendy, the overall experience was too up and down for our taste, and a little mistaken in its aspirations to be seen as modern or cool. What you end up getting is a product devoid of being attuned to guest needs. I was really pleased to hear from the GM Tracey that the Accor Group will be renovating and rebranding this into a So Sofitel come November. This is a very positive development, and no doubt the end result will be a much needed improvement on what's currently on offer.
Hotel – 5/10
Experience – 5/10