I love me a St. Regis Hotel. I've stayed in many over the years, and they seem to have mastered that perfect balance between unadulterated luxury and discreet service excellence.
The Parel district where the St Regis Mumbai is located, is akin to a mini-Manhattan. High-rise buildings decorate the skyline in every direction, and the hotel has far-reaching views over the Mahalaxmi Racecourse, to the Arabian Sea and beyond. It takes approximately 45 minutes from the international airport (depending on traffic) and given our BA flight arrived after midnight, we ordered a car from the hotel to collect us. I find this is a really civilized way to navigate ground transportation amidst jetlag induced disorientation, especially in cities where the arrivals hall can quickly descend into madness.
India is hosting the G20 this year in September, and the whole of Mumbai seems to be a gigantic construction zone. While the journey at that time of day was uneventful, there were instances during our trip when it seemed like everything took that much longer to get to. The hotel is surrounded by high-end shops and restaurants, and has a fancy mall connected to it, but is otherwise far from any real sights that make Mumbai interesting.
On arrival, we were met by guest relations who whisked us up in a lift to the 9th floor where the main hotel lobby—a cavernous space complete with grand staircase and soaring ceilings, was to be found. In general, all the public spaces had an element of grandeur to them. Think new money opulence on steroids. Mercifully, check-in was done in the room, but with the mandatory fuss and pomp of information exchange I tend to dislike; who cares how many restaurants you have when it's 2am and all I want to do is crawl into bed?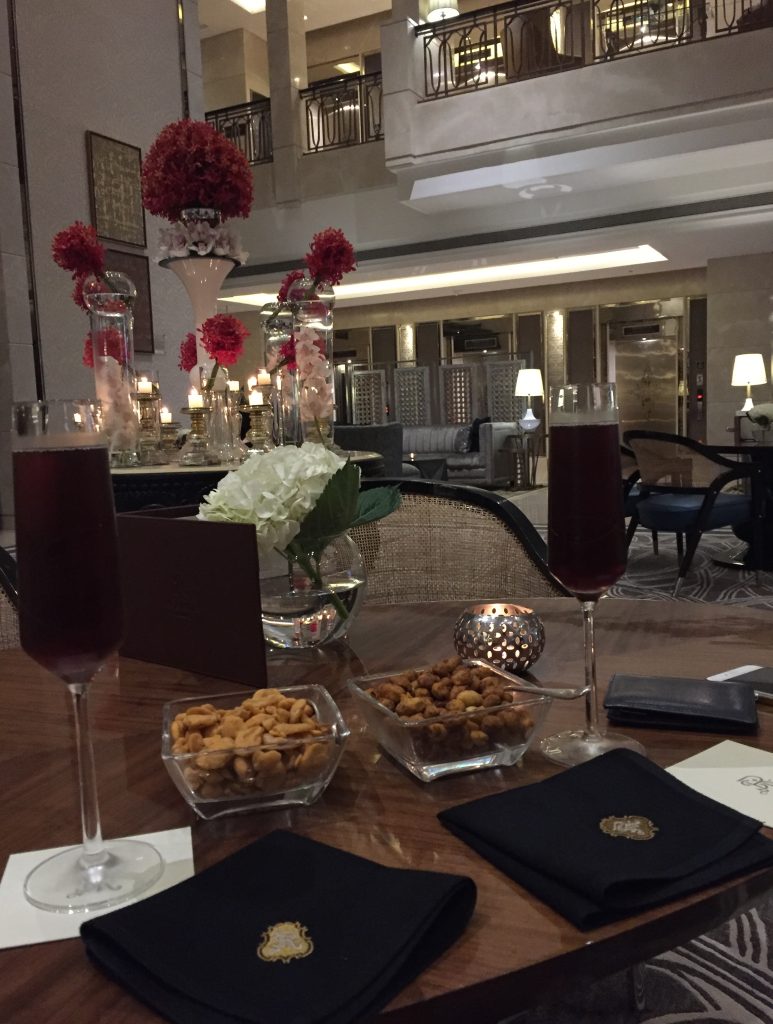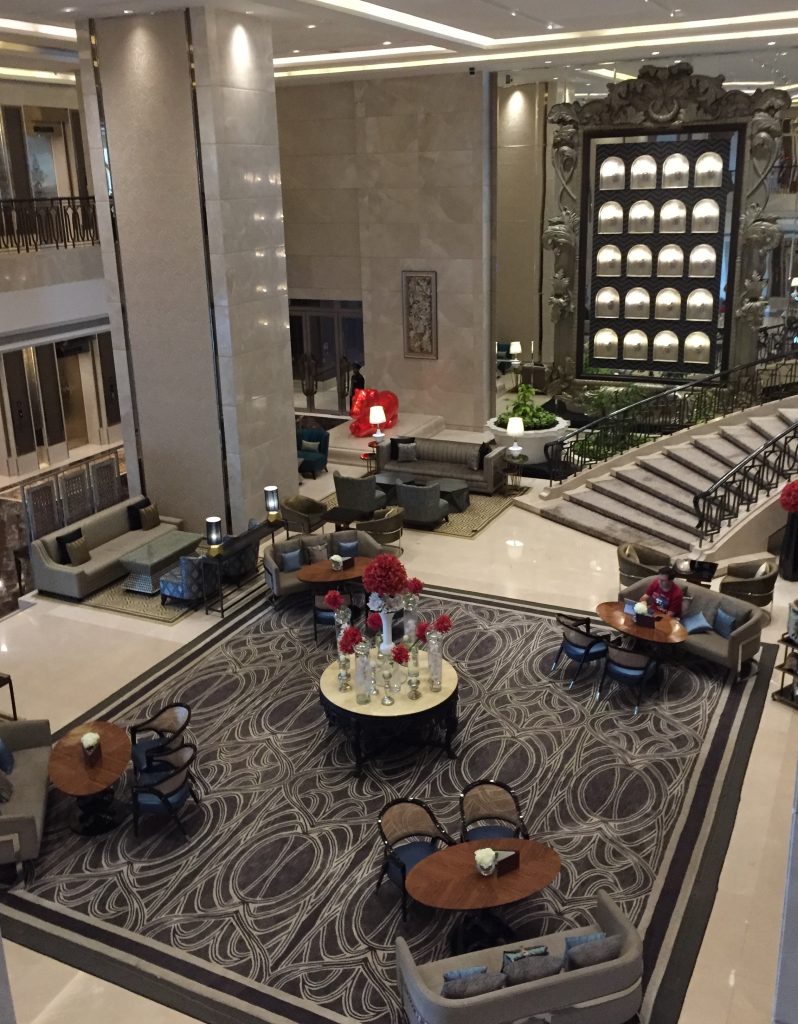 Rooms are modern, plush, and done in a combination of dark panelling and soothing earth tones, with the occasional nod to our surroundings, evidenced in the soft furnishings on display. The king bed was firm and accompanied by a collection of down feather pillows, but the bedsheets didn't feel especially luxurious and were more grey than white. Topping things off was a small loveseat and functional desk area framed by the huge picture window. The bathroom has a separate tub and shower area, with the requisite Remede toiletries that are now synonymous with the St. Regis brand. One huge gripe I found with the rooms was the sound proofing. It was practically non-existent. The situation was not helped by our neighbour, who thought nothing of watching a noisy Bollywood movie while simultaneously talking loudly on his mobile.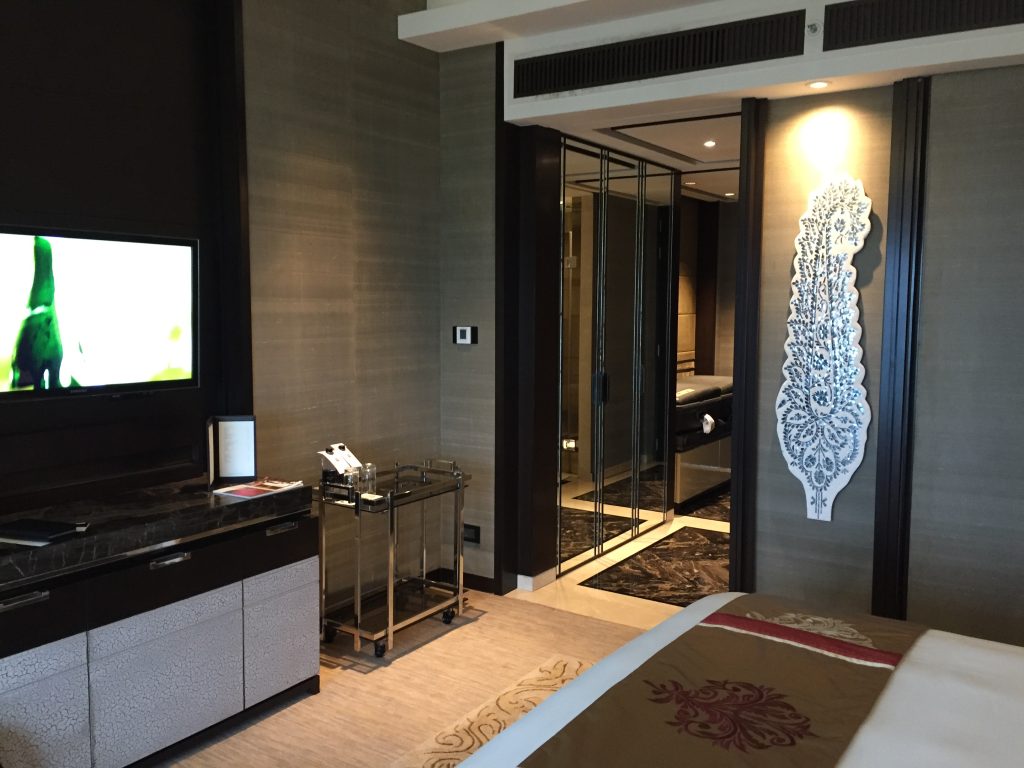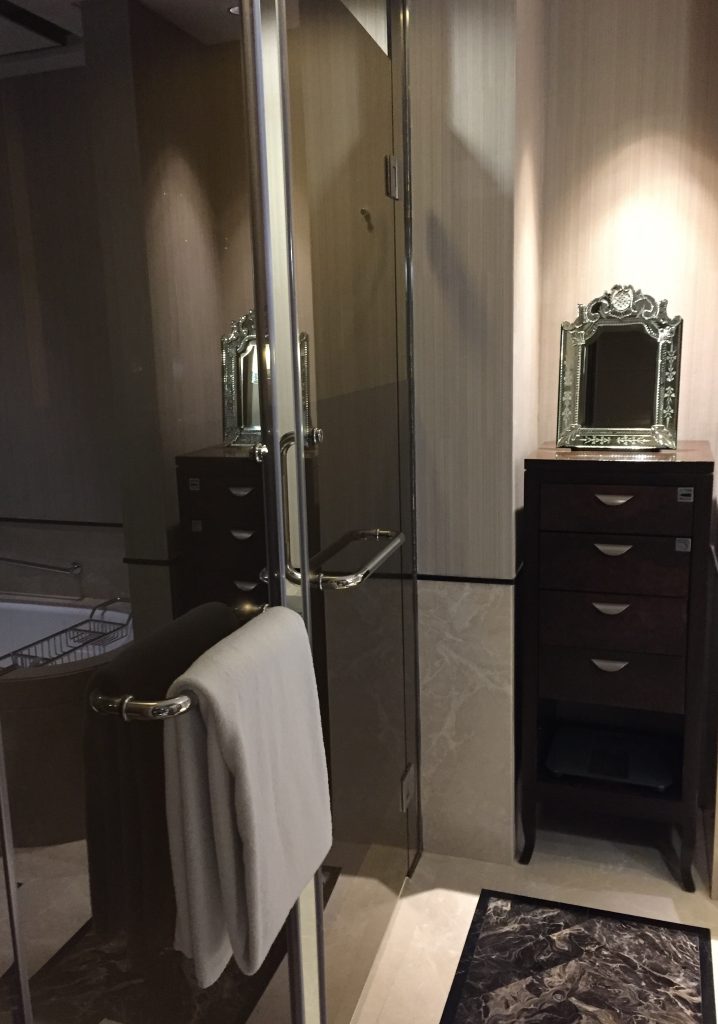 Writing the night off to jetlag, the next morning I was cheered-up by the expansive breakfast spread on offer in Seven Kitchens. Simply put, it still occupies space in my head rent free. What a spread—from live cooking stations for every cuisine you can think of, to a dazzling selection of pastries and even a decadent ice-cream parlour, this is hands down the best breakfast I'd had in ages. Lots of idle service staff were ready to top-up hot drinks and a head-spinning amount of food (minus some of the decor) made the experience. We had gone down quite early and enjoyed having relatively few guests around. I'm glad we did, as it eventually turned into a bit of a circus, with a steady stream of demanding guests in large groups giving the wait staff a good workout. I encourage you to book a breakfast inclusive rate.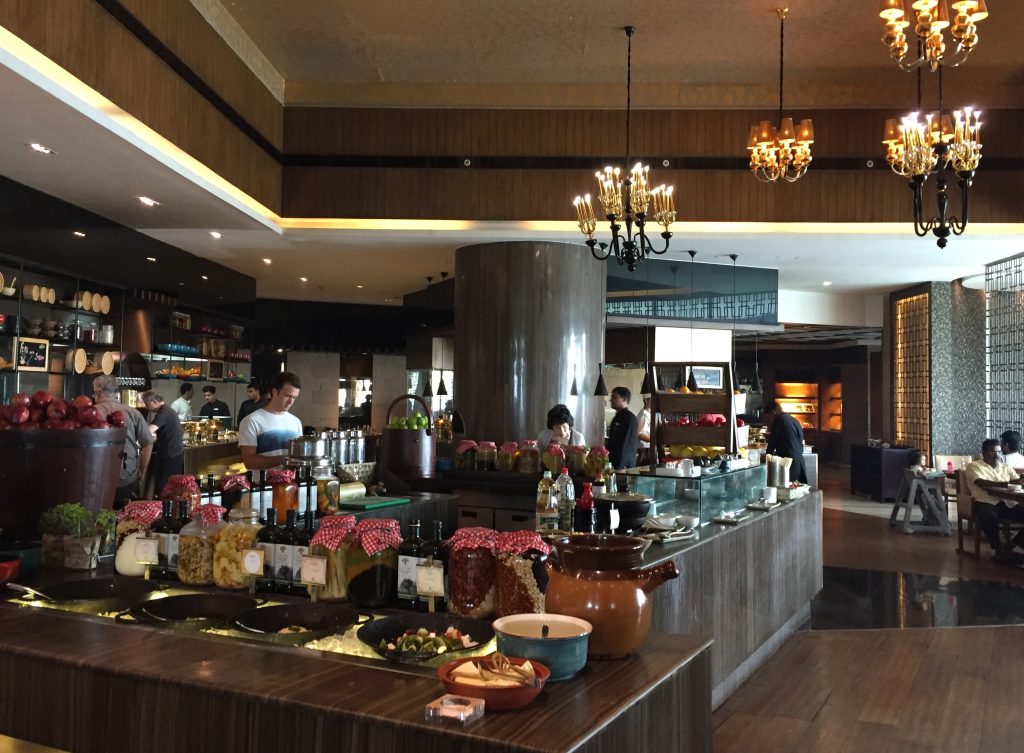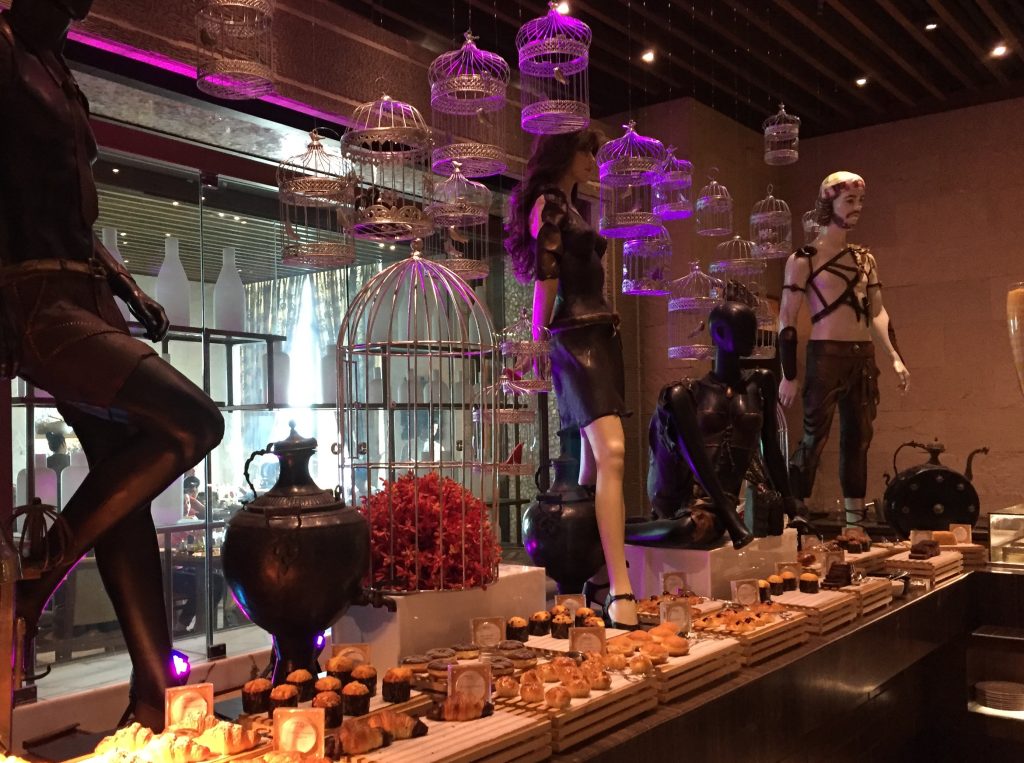 The hotel has multiple dining outlets, including several Asian-themed restaurants, but Seven Kitchens was the only food experience we tried due to our short stay. We did grab some cocktails prior to our dinner at Masque (review coming soon!) in the Drawing Room. These weren't great (i.e., kir royales that were flat with too much cassis), which was a real shame given our positive breakfast experience. We wanted to try the bar on our return from dinner, but the serene public spaces we left behind were nowhere to be found, overrun with loud guests who were obviously attending different celebrations happening across the hotel that evening.
Back at the room, we continued to be serenaded on both sides. Luckily, I managed to dig out my airline amenity earplugs, cursing the powers that be for designing what is essentially a useless hotel bedroom experience. I expect better.
The Verdict
There were too many anomalies for me to truly enjoy the experience at the St. Regis Mumbai. Quiet and calm are my two non-negotiable requisites for a hotel, and I just couldn't comprehend why a hotel developer would invest so much money into creating a luxury product yet turn a blind eye to installing paper-thin walls. Luxury hospitality isn't about what something looks like, it's about the performative function it fulfils. Being one of the pre-eminent addresses in the city for Mumbai's elite also meant there is always going to be some sort of private event happening in the Hotel, which inevitably creates foot traffic and a certain type of unwelcome chaos.
Lower Parel may be one of Mumbai's most affluent neighbourhoods, but you only have to venture a few blocks from the hotel on foot to witness some of humanity's worst kind of poverty. You could say the same about most parts of Mumbai. However, the stark contrast from leaving the opulent grounds of the St Regis and wandering into areas of utter destitution was a particularly jarring experience I found hard to reconcile. There is clearly significant money being invested in Mumbai, but it brings to question who's controlling the distribution of wealth and whether it's trickling down to those most in need? A humbling experience for all the wrong reasons.
If you're a first-time visitor to Mumbai, I would recommend staying in one of the luxury hotels closer to the Old Town. There are several to choose from in and around Nariman Point (The Oberoi, Taj Mahal Palace), which is more atmospheric and a friendlier option to those wanting to explore the city on foot.
Hotel – 6/10
Experience – 5/10