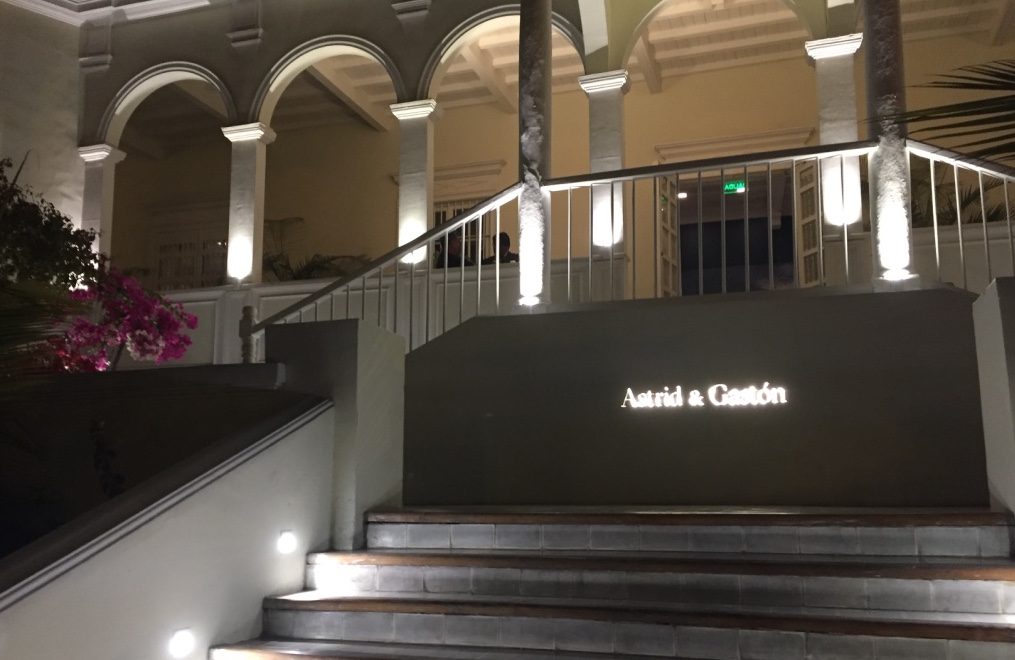 No self-respecting foodie would consider a visit to Lima complete without paying a visit to Astrid & Gaston. Husband and wife duo Gaston Acurio and Astrid Gutsche are widely credited in the culinary world for elevating Peruvian cuisine into our consciousness. Their eponymous restaurant is a much celebrated institution unlike any other in Lima. By paying homage to the heritage of Peruvian food culture, classics like tiradito and ceviche have now made their way into contemporary food circles across the globe. Having been to their outpost in Santiago de Chile many years ago, we had every intention of sampling the 'mothership' of Peruvian haute cuisine during this visit to Lima.
The Setup
The restaurant provides both a lunch and dinner service, which includes an a la carte and tasting menu option. The latter is served at specific times, so make a point of noting the information listed on their website prior to booking. We opted for a table during the evening service, and it quickly became apparent just how respected and revered Astrid & Gaston is by Limeños. A casual mention of our dinner plans while shopping earlier in the day got the unmistakable nod of approval. When I stopped by the concierge to ask how long it would take to get to the restaurant, he beamed with delight. And when our practically mute driver pulled up at the restaurant, he suddenly broke into a big smile while pointing and giving us the thumbs-up.
In 2014, Astrid & Gaston relocated to the upmarket Lima suburb of San Isidro as part of a 20th year anniversary re-launch, taking up residence in a magnificent, 300-year old hacienda. Casa Moreyra is an impressive venue for any restaurant, with floodlit stairs taking you up to the tiled landing and into the stylish foyer where we were greeted by the maitre 'd. Just past the entrance, the venue splits into several small spaces including a formal bar area and dining rooms, one which looks on to an open kitchen. To the back of the hacienda is an elaborate cocktail bar area with high stools, overlooked by a more casual terraced area for dining.
Pre-dinner
As we'd arrived a little early, we asked to be shown to the bar for a pre-dinner cocktail. This was a small, well-lit space connecting on to one of the main dining rooms. I would have much preferred the choice of sitting at the downstairs bar had I known of its existence. I thought the formal bar area had a more transient quality with diners passing through. Having said that, I did enjoy an excellent and very boozy Pisco Mule (a take on the classic Moscow Mule), which came with a dish of marinated olives. Cocktails guzzled, we were shown to our table in the central dining room, decorated in a combination of moody earth tones and large-scale artworks. I noticed the crowd primarily consisted of locals, many of whom were dressed on the more casual side. It made for an interesting contrast to what a similar experience would entail in London, where you would most certainly expect to observe a more formal dress code for a dining experience of this caliber.
The Food
The a la carte menu is divided into two very manageable sections, and there was no shortage of delectable dishes to choose from. Our waitress was pleasant and efficient, making sure we had plenty of time to ask questions about the food. After ordering a bottle of crisp Casa Marin sauvignon blanc, my starter of scallops marinated in pesto and apple foam arrived on a bed of seaweed and ice. These were served with a topping of powdered vanilla extract, added last minute by our waitress table-side. The scallops themselves were tasty, although I found the sweetness of the vanilla too overpowering. A little less generous a serving would have easily fixed the matter. I looked across enviously at the other Mr. Highlife, who'd sensibly ordered the trio of ceviche – one of the signature plates at Astrid & Gaston. Crafted to demonstrate how ceviche has evolved over the last three centuries, fiery aji peppers gave the dishes plenty of heat, with the zesty citrus flavours packing an additional punch. Simply put, the ceviche was outstanding.
For our mains I kept faithful to the seafood theme, ordering a lightly steamed sea bass prepared chorillana-style, accompanied by a creamy corn concolon (omelette), halved roasted tomatoes, onions and an aji infused jus. I would have been quite happy with just the sea bass, flaky and delicious as it was. Alas, the heat coming from the chilli base was too much of a match for such a delicate white fish. The concolon was a first for me, and I loved the rich taste and texture – in many ways a version of the classic Spanish tortilla. The other Mr. Highlife settled for matured tenderloin in a wine jus, with sautéed vegetables and a creamy new potato mash. This was heaven on a plate, and my food envy instantly doubled from the few bites I managed to salvage.
A long travel day, followed by much pounding the streets to force ourselves to stay awake meant we were too tired to prolong the evening any longer by ordering dessert. A missed opportunity in hindsight, as the small plate of petit fours presented with the bill offered a tantalising tease of what we'd forsaken. Bonbons made with chilli-infused liquor together with a rich cocoa ganache was a lovely farewell treat, and I'm sure had we indulged, dessert would have been on equally an inventive footing.
The Verdict
With a global empire covering some 40 outlets, Astrid & Gaston has become a fixture on the San Pellegrino list of the world's best restaurants. And from our dining experience that night, I completely understand why. While I may not have ordered wisely in this instance, I did get a small glimpse into the rich heritage of Peruvian cooking re-worked for the modern palate. It was polished and flavoursome, so for that reason alone, you can sign me up for another visit any day.
Restaurant – 9/10
Experience – 8/10