I must admit, when I first came across Roux in the Buenos Aires restaurant listings, my pulse quickened slightly. A massive fan of Michel Roux Jr's sublime Mayfair institution Le Gavroche, I suddenly had grand visions of devouring French haute cuisine thousands of miles away in my beloved Buenos Aires. With one of their signature soufflés top of mind, I got straight on the case of making a booking.
You could forgive me for playing the name association game, because as it turned out, this wasn't the Latin American foodie temple from Roux Jr I'd dreamt-up. But what's in a name after all, especially after finding out the restaurant you'd been lusting over belongs to chef Martin Rebaudino – formerly of Oviedo fame. After decades of being at the helm of this award winning fine-dining establishment, chef Rebaudino had branched out to open his own restaurant venture to much critical acclaim.
The Experience
After days of experimental tasting menus, parilla, grilled meats and yet more meat, all I wanted was to escape someplace where the menu consisted of wholesome dishes with minimal fuss. Located on the corner of one of Recoleta's unassuming back streets, Roux has a small and intimate feeling. There's a dozen or so white-linen covered tables on the entrance level, with a spiral staircase taking you down in to the private dining room and cellar. There's a small service window giving you a glimpse of the action going on in the kitchen, and for those waiting for tables to becomes available, the staff offer a glass of cava to keep you entertained while waiting outside on cushioned benches.
Expectation wise, I was fully prepared to be presented with a short and manageable menu. Yet in stark contrast to the compact kitchen and dining environment, the menu at Roux offers robust choice, containing something pleasing for even the most pickiest of diners.
In a city known for being a meat-lovers wet dream, I found the a la carte menu refreshing and contemporary. Seafood appears prominently and there's more than a touch of Mediterranean-inspired cooking across the board. Even when it came to the short selection of meat-based dishes, the ubiquitous black Angus steak was overshadowed by a range of more novel carnivorous options including; baby goat stew and suckling pig served with a potato millefeuille.
The Food
It must be hugely challenging to consistently update a menu based on what's in season, but as our very personable and attentive waitress Stefanie explained, this is one of the founding principles of Roux. As someone who has a fairly limited repertoire when it comes to my go-to dishes, it was rather liberating to go along with recommendations based on what would be at its prime seasonality-wise. Our wine of choice for the evening was a crisp Riesling from the Luigi Bosca estate from Cuyo, Mendoza.
After a generous bread basket was presented, we were given two small amuse bouche in the shape of tasty pâté and a zingy gazpacho. We both had the same starter of thinly sliced octopus carpaccio, which came with new Andean potatoes, juicy baby tomatoes, shaved radishes and cachi peppers from the Salta region. Drizzled with honey-like organic extra virgin olive oil, the octopus was tender and wonderfully seasoned.
For my main, I chose to have the saffron risotto with grilled cuttlefish. This was a lot of risotto – even for someone suffering from pangs of hunger, and as expected, the flavour was incredibly rich and decadent. A pity I had to leave so much of it on the plate, but I wanted to leave some room for dessert! The other Mr. Highlife sensibly chose to have the loin of trout, which was accompanied by seasonal vegetables, grilled Malvinan cuttlefish and cauliflower puree.
Dessert was another excellent recommendation from Stefanie – golden seasonal peaches hailing from Mendoza in a coconut soup and topped with tangerine sorbet. A gold star of a choice, which also included a table-side visit from chef Rebaudino himself – a highlight of the evening.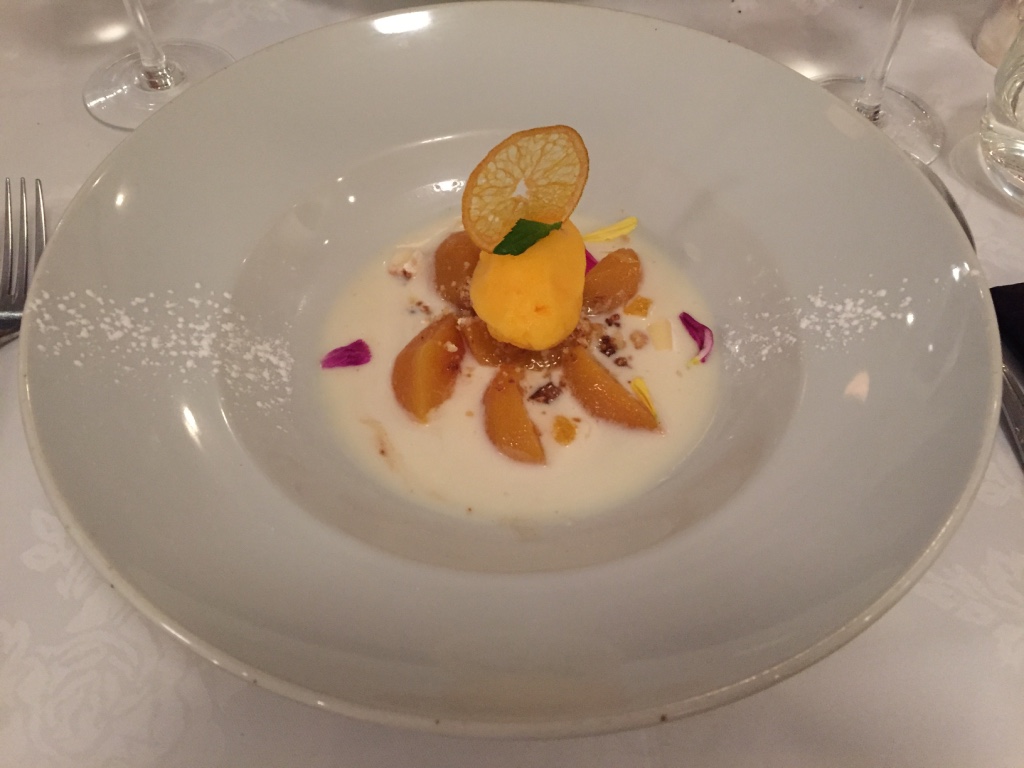 The Verdict
There comes a time when even the most fervent gourmand wants nothing more than a simplicity from his food. Roux responded with panache, managing to pack in a glorious whirlwind of flavours and textures to old and familiar tastes. A shining example of contemporary cooking at its finest, I would encourage you to book a table way in advance in order to avoid being disappointed. Very highly recommended.
Restaurant – 9/10
Experience 8/10