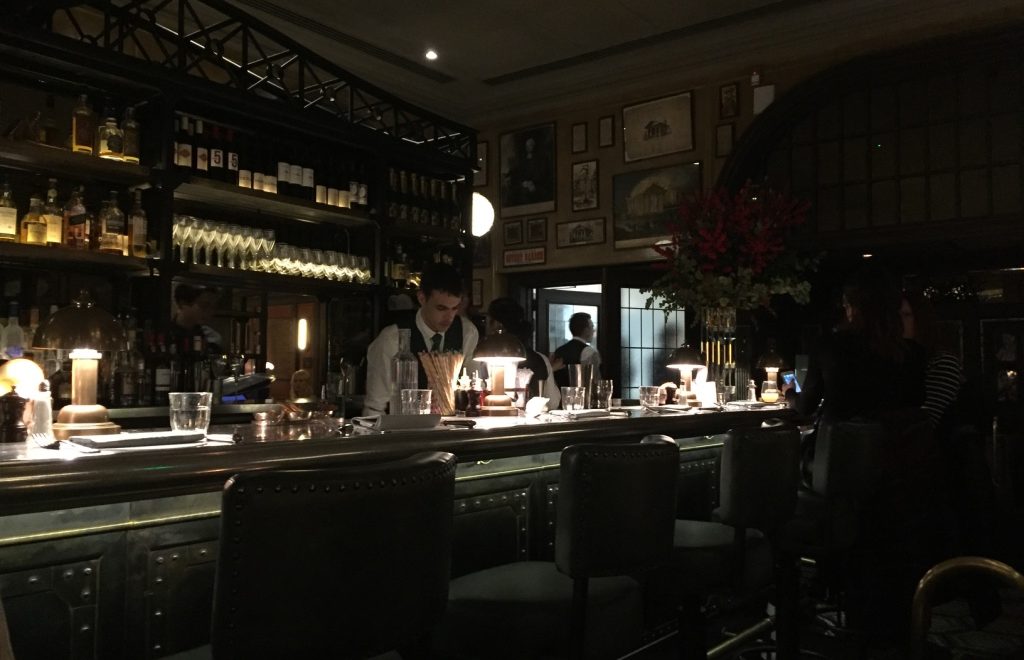 I'm always encouraged by established business' open to understanding how they can diversify their offering to cater for changing tastes. If for no other reason, such attempts can help make an untenable experience for many, into something much more accessible in reach. You can call it opportunistic to use one's marquis brand appeal to create a sub-par product for the masses, but I still think it's a worthwhile effort. We've seen this done for years in luxury fashion, with more affordable 'diffusion' lines gaining a legion of new fans for that designer's brand. And so there's no reason why this practice shouldn't be fair game for hospitality companies like The Ivy Group.
With a week to go before we jetted-off to Asia, I managed to pin down one of my old friends who tends to perpetually be away on business trips for some pre-Christmas drinks and dinner. Without a chance in hell of getting a booking at the real McCoy, I thought trying out The Ivy Market Grill instead was an acceptable substitute to it's parent offering. Situated in the southeast corner of Covent Garden, The Ivy Market Grill has cleverly managed to bridge some of the design aesthetic from its parent establishment, emulated in the dark wood panelling, rich leather upholstery and elements of stained glass. There's an outdoor dining area for when the weather is more favourable, or for those brave souls who are quite content with the presence of an outdoor heater or two.
I arrived on time and was shown to our table immediately by the bar. I use the word 'table' loosely, as this was really just two hard benches with a tiny surface – about as comfortable as sitting on a church pew. When I requested a change, I was told this was the only available seating, despite half of the tables in my line of sight being empty. The majority continued to remain unoccupied throughout our short dinner, and it all went progressively downhill from there.
For some reason, our negronis couldn't quite get to us in time, despite sitting an arm's length away from the barman. When they did eventually find their way to us, their arrival awkwardly coincided with our food order being presented. So much for downing a few cocktails before dinner. The food was also an issue. Ordering the signature burger for two was easy enough, but when it got to the table, every aspect of how these were presented was wrong: I asked for mine well done with cheese and got my companion's medium rare with bacon instead. It appears the chef's well-done is the equivalent of charcoal. Our second round of negronis were much needed, but the third round never quite materialized, even though they magically made their way on to our bill.
The Verdict
I dislike bad dining experiences immensely, especially if I'm entertaining and was the person who chose the venue. I also dislike being sat at a poor table. But not one to complain, the next time someone suggests a bite to eat at The Ivy Market Grill, I'll twist their arm and convince them to go to the far superior Balthazar around the corner instead.
Restaurant – 5/10
Experience – 2/10