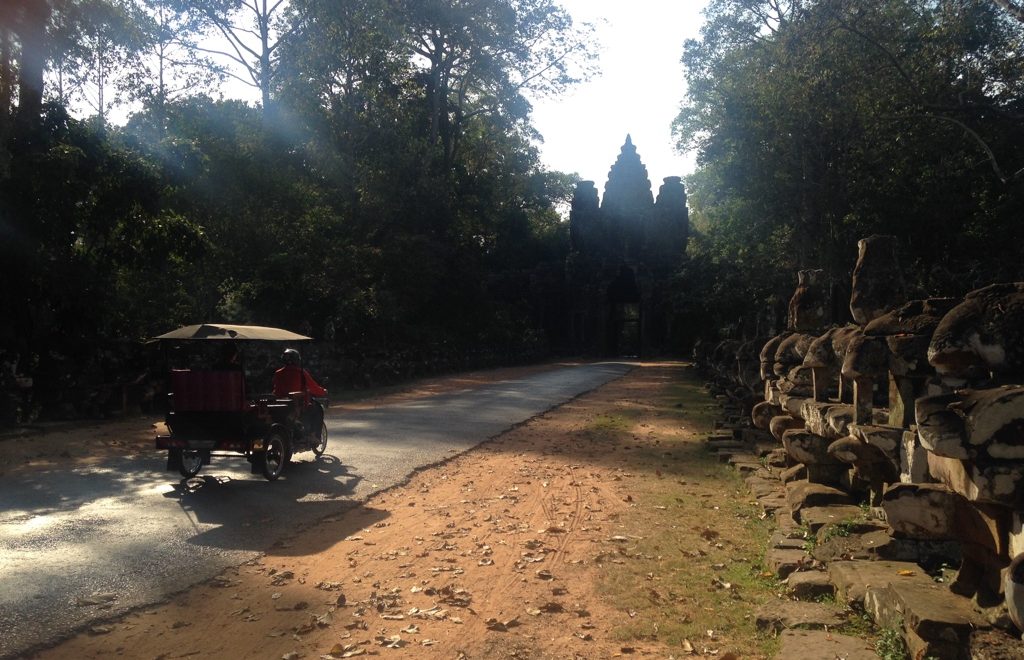 For decades, experiencing the UNESCO World Heritage site of Angkor Wat – one of the largest and most spectacular religious monuments in the world, has been a mainstay on every travellers to-do list. Lured to the small town of Siem Reap by the stunning archeological park, these atmospheric temples of ancient Angkor are still the primary attraction here, and a worthy sight to behold. But if you're combining a whistle-stop tour of Siem Reap with visits to other parts of Cambodia or Southeast Asia, there's plenty more to keep you entertained:
Arrival: 
First-time visitors will be charmed by the temple-esque structure of the international airport, built to reflect the architectural style of the Khmer people's cultural heritage. Onsite, there are a few taxi companies based out of the airport, operating a fixed-priced, pre-paid fare model to get you into the city centre. You can of course pre-book with one of the many specialist tour operators to arrange a transfer that's a little more hassle-free. Though perhaps not the cheapest, we found the easiest option was to book through our hotel, and have their representative meet us just outside the arrivals hall.
Where to Stay:
The newly opened Siem Reap Park Hyatt is the obvious choice for the discerning traveller, alongside the world-famous Belmond La Residence, which is also located in downtown Siem Reap. As part of my research on where to stay, I also found the Angkor Village Resort – an SLH hotel property, worthy of a mention for those looking for a more secluded hotel stay. We were delighted with our choice – The Shinta Mani, where we were greeted with enthusiasm and much needed cold towels, alongside superb service from start to finish. This is hospitality with a conscious, championing skills development and entrepreneurship through actively engaging in apprenticeship and community-building schemes. One for the socially-responsible luxury traveller's consideration.
Out and About:
The benefits of being in a relatively small town like Siem Reap, makes most things accessible on foot. After checking in to your hotel, it's time to explore the city and soak up the atmosphere. A ten minute walk along Pokambor avenue with the Siem Reap river running to your left, will eventually lead you to the epicentre of town. Here's where you'll find the main concentration of commerce and entertainment venues, spread across a grid-pattern of bustling streets. There's the ubiquitous night market – a cacophony of colourful stalls selling everything from food items to tourist tat, which you may want to come back for later in the evening. Our pick is a stop at Artisans Angkor, a cooperative of artists and craftsman who's aim is to revive Khmer arts and crafts in a profit-share model. Items are of high quality and exquisite craftsmanship.
Doubling back along Sivatha Boulevard will lead you to the Siem Reap branch of Pedro, a mid-range leather goods brand that's on-trend, and well known in Southeast Asia. Continuing on in the direction of Charles de Gaulle avenue, you'll pass Preah Ang Chek –  a small, popular local shrine for paying respect and worship. Don't miss the sleeping fruit bats perching delicately off gigantic trees in the royal gardens, a serene and quiet park to catch a breather. Then it's on to the Angkor National Museum, where you'll find an extensive collection of Khmer artefacts, alongside objects of religious significance. Worn out from all the walking, you'll want to catch a tuk tuk for the ride back to the hotel, to sneak in a siesta prior to the evening's activities.
Eat and Drink
Your first night in Siem Reap should be marked with a visit to the Foreign Corresppondents Club, a short stroll from the Shinta Mani resort. The former French Governor's mansion, this is now a smart upscale hotel, featuring a great restaurant and bar for grabbing some pre-dinner cocktails in the gardens. Heading back towards the Shinta Mani, I'd recommend trying the Khmer tasting menu at Kroya, where you'll be offered the opportunity to dine on a fun and relaxing traditional Khmer. And then depending on your mood for the evening, you can always head back to the lively night market, grabbing a few more drinks along the way.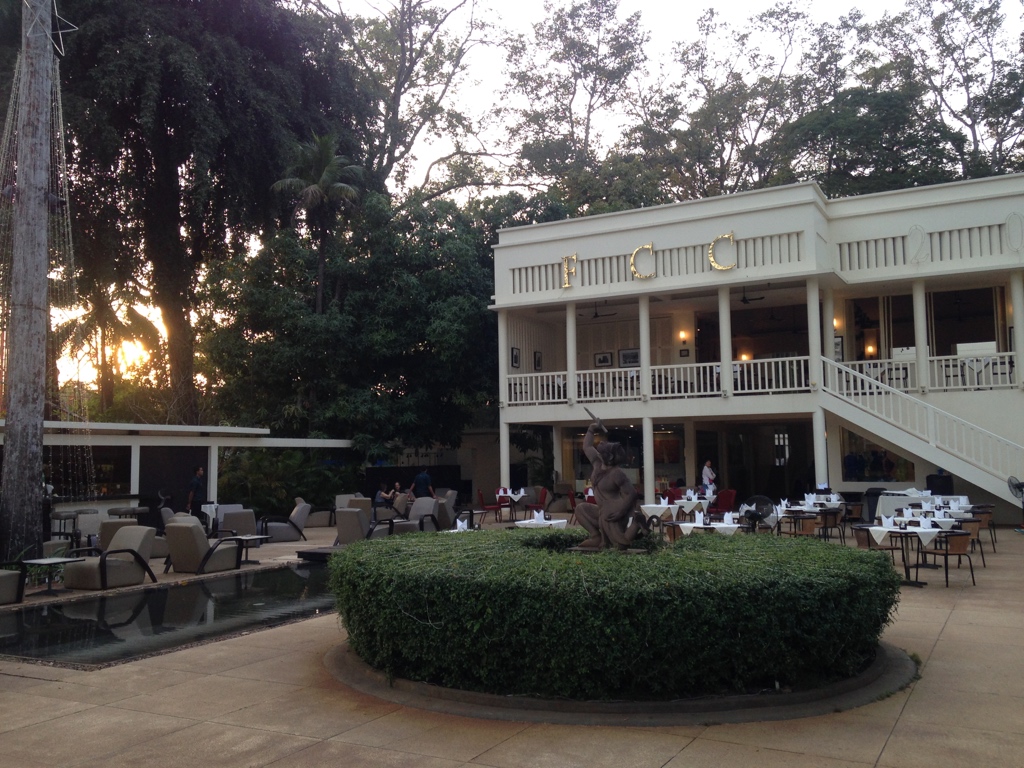 On your second evening, make The Dining Room at the Park Hyatt Siem Reap a not-to-be-missed stop on your itinerary. There's a terrific patio and indoor bar area, aptly named 'The Library' where you can indulge in some aperatifs prior to adjourning for dinner. Think broadly appealing continental cuisine in a fantastic setting.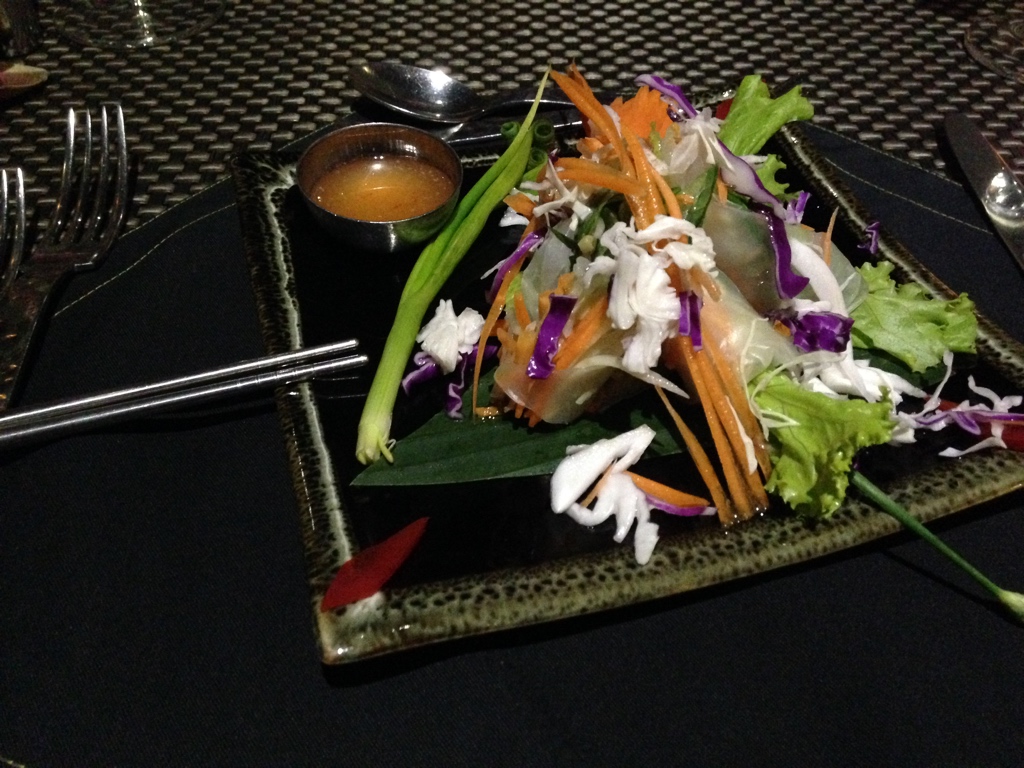 Temple Hopping
After a hearty breakfast on the Hotel's terrace, day two is all about the Angkor archeological park. Siem Reap may be a small modern-day city, but it's dwarfed in comparison to the vast area covered by the major sites that once made up this ancient city. A degree of planning is required – not just to ensure you get to see everything you want, but because you can also very easily get sucked into temple fatigue. Most bloggers will insist you go either at sunrise or at sunset, when the sky bursts into a kaleidoscope of atmospheric colour. We opted not to do either, as the problem with everyone recommending the same ritual is ending up with hordes of like-minded people experiencing the same thing en masse.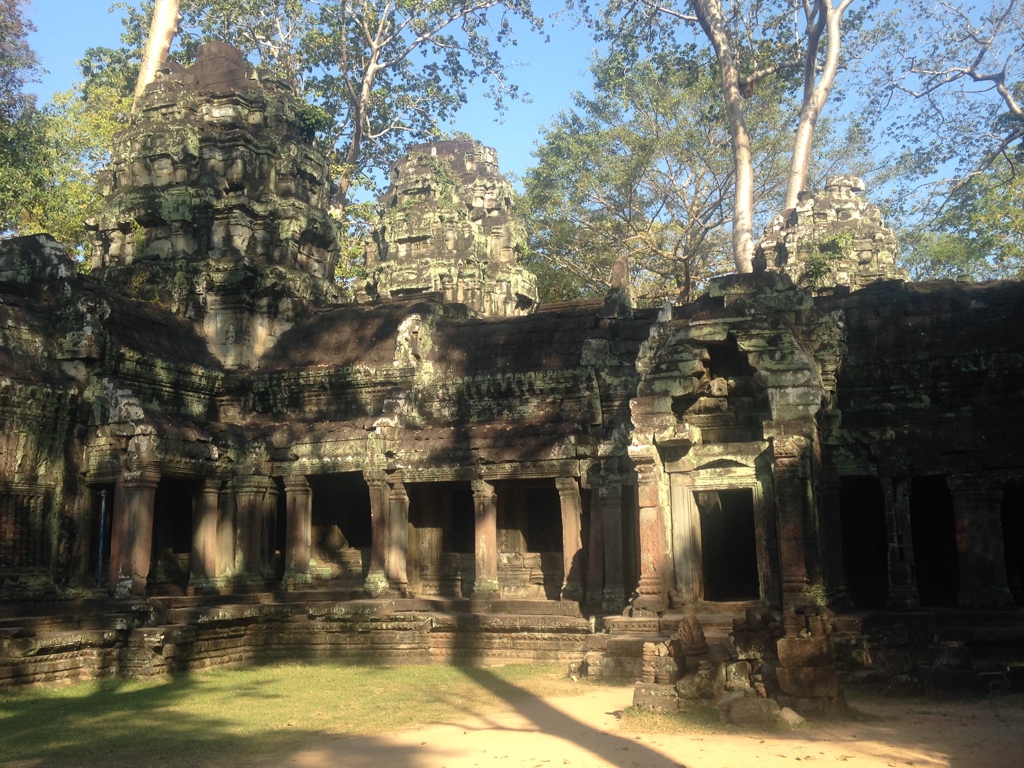 Our plans were quite simple. A leisurely morning reading and catching some rays poolside, before eventually heading out to sight-see at around 2pm with our tuk tuk supplied by the hotel. The Shinta Mani helps finance locals to run their own tuk tuk business, and we were more than happy to support the initiative. We only wanted to do a handful of temples, and settled on the three most interesting: Ta Prohm for my Lara Croft re-enactment moment, Bayon to see the impressive face carvings, and of course Angkor Wat itself.  As we're not hugely interested in archeology, we didn't feel the need to book via a specialist tour company, instead reading up on the history prior to the visit, and engaging local guides on site.
Our tuk tuk driver took us from the hotel to the park entrance where you briefly stop to pay fees and have your photo taken, since it gets printed on your entrance ticket. The route is amazingly scenic, and you'll get such an incredible sense of adrenalin just being in the presence of such wonders. All in all, we probably spent about 4 hours doing the rounds, leaving just as the hordes started to descend on Angkor Wat to catch the sunset. It was the perfect amount of time for us experiencing these magnificent sites, before hightailing back to the hotel to prepare for the final farewell dinner at the Park Hyatt.