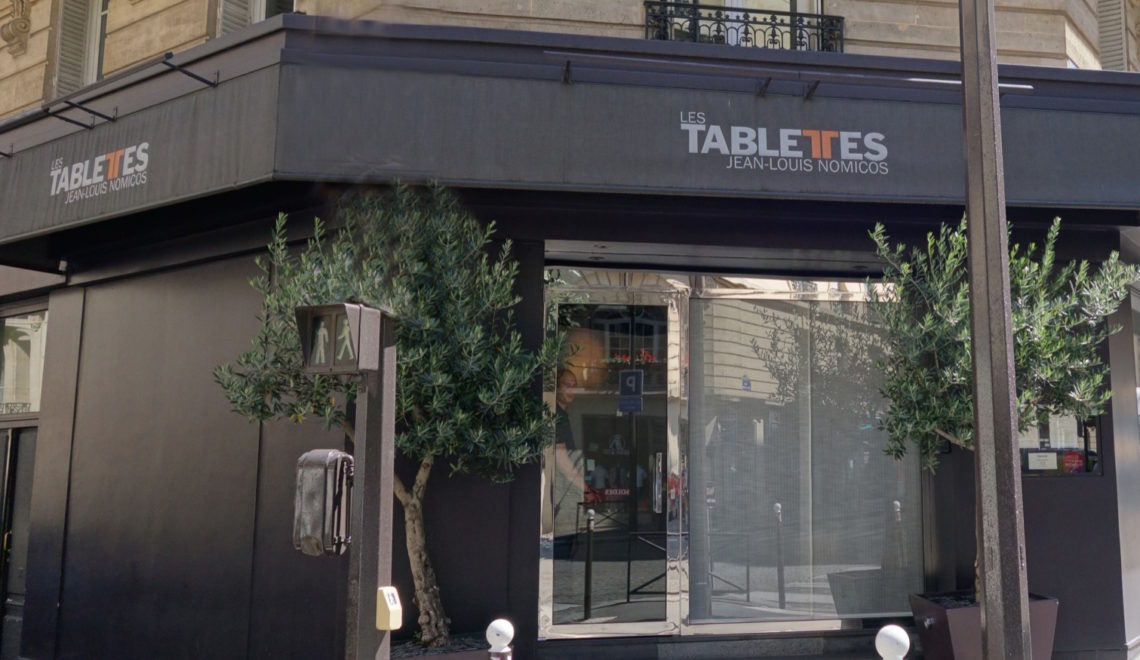 While there are no shortages of excellent places to dine in Paris, I have a history of being rather unlucky when it comes to my dining experiences. While I won't go into the minutiae, it seems I have a knack for seeking out arrogant waitstaff and heavy, heartburn inducing cookery. By pointing me in the direction of Alain Ducasse trained Jean Louis Nomicos's Les Tablettes restaurant, perhaps the gods decided to throw me a bone. This Michelin-starred eatery located in the 16th arrondissement single-handedly restored my faith in the celebrated art of French cooking.
Rude, haughty waiters? Not an attitude in sight as you're welcomed by the bilingual staff with gusto and professionalism. The short, Mediterranean inspired menu suitably arrives on iPads, and with the exception of a handful of signature dishes, changes frequently to make the best of seasonal ingredients. Les Tablettes' dining room is part futuristic pod, done in contemporary grey and orange tones with lots of mirrored surfaces. Equally contemporary, the cuisine lives up to expectations. The signature macaroni with foie gras, black truffle and melted parmesan, comes dressed with veal jus and is the stand-out dish of the evening. My langoustine main was equally as delicious, ever so slightly overpowered by the houmous accompaniment. To close proceedings, we shared a chocolate orb ceremoniously brought to the table by our waitress, who revealed a crunchy hazelnut praline on the inside by pouring hot chocolate over the dish.
The Verdict
This was fine dining at it's best, but of course it comes at a price. Interestingly for us, it's probably the only restaurant we've been of late where the excellent and reasonably priced Sancerre (at €52) was the cheapest single item on our bill. Save Les Tablettes for a special occasion or an indulgent night out in Paris, as the experience certainly makes up for the lighter wallet.
Restaurant – 9/10
Experience – 9/10